Letter from the Directors
Dear CCWT Community,
It's been a long time since we have issued a newsletter, but we have lots of news and updates, staff and new projects to introduce, and upcoming events to share with you. As we enter a new phase of the pandemic and a changed postsecondary, economic, and social landscape, we are engaging in a "refresh" of the Center to better provide you all with new evidence, research tools, and educational events.
Don't worry, we're not doing anything dramatic like changing our name. What is new is that we have a newly clarified vision of why CCWT exists and what our team can contribute to the national conversations around student success. This vision revolves around three core strengths that we want to highlight as we enter the next phase of our growth:
1. Conducting applied research: Our research
on college internships continues, but work on supporting students of color as they develop their career-related capital(s), resources, and confidence is becoming the heart of CCWT's research program. A new study on how career advising and classroom teaching is addressing the climate emergency also represents a new focus in CCWT's research priorities.
2. Developing new research tools and
frameworks: While you may know of our National Survey of College Internships (NSCI), about which we'll have some exciting news to share in coming months, our team has also created a variety of new research tools, interventions, and frameworks.
team has created a new survey measuring Community Cultural Wealth.
week program and facilitator manual to guide underrepresented undergraduate students to learn skills, cultivate knowledge & foster greater know-how to healthily navigate their career and school lives.
Team
has created a new framework for embedding career readiness across the curriculum, including courses on how to teach transferable skills.
In addition to sharing these tools, we hope to begin training campus partners in using them to improve their own programming.
3. Hosting educational programs and events:
Our symposia on College Internship Research and Unpaid Internships have been some of our most popular offerings, and we are ramping up our educational programs in 2023.This will include an exciting lineup for our Spring 2023 seminars, a new Early Career Scholar and Undergraduate Research program, and our first ever CCWT Conference on November 2nd in-person at UW-Madison. Our conference will feature CCWT scholars, student panels, and keynote speaker Dr. Lauren Rivera from Northwestern University, and we'll live stream the event for those of you unable to come to Madison, Wisconsin.
Exciting things are in store for CCWT and its community in 2023! Please get in touch with us if you'd like to be more involved or learn more about our efforts.
We hope you all have a wonderful beginning to the new year!
New Bill & Melinda Gates Foundation grant supports CCWT
CCWT is excited to announce a new $838,959 grant from the Bill & Melinda Gates Foundation. This is the 3rd grant for CCWT from the Foundation, and this award provides general operating support while specifically funding projects on supporting college students of color well-being/mental health as they pursue their careers (led by Dr. Mindi Thompson and Dr. Pa Her, Department of Counseling Psychology) and enhancing Latino/a students' career-related community cultural wealth (led by Dr. Nidia Bañuelos, DCS; Dr. Ross Benbow, WCER). The grant also will support new projects led by Dr. Hora, exploring how higher education career advising and skills-focused pedagogy is addressing the climate emergency and institutional strategies for embedding career readiness across the curriculum.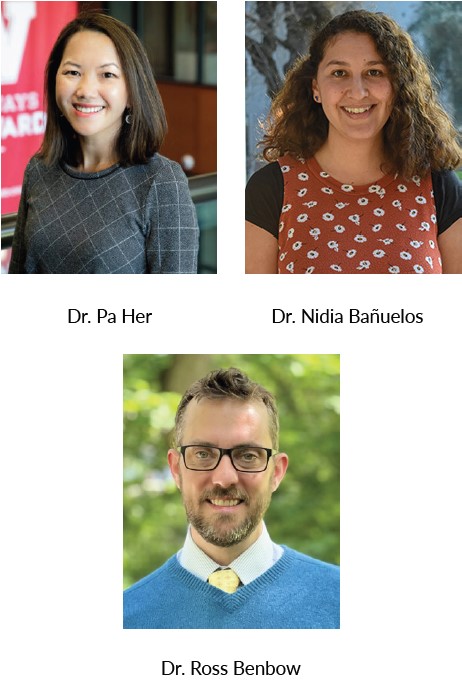 One of the goals of this new funding will be to position CCWT's various projects so that we're able to provide data, research tools, and technical assistance to colleges and universities in the Foundation's national networks, especially Minority Serving Institutions (MSIs) around the country. So if your institution is interested in learning about how CCWT's research findings and tools can help your campus, please get in touch at
ccwt@wisc.edu
.
New National Science Foundation grant awarded to support NCA project
The Networks and Cultural Assets Project (NCA) team was awarded $675,271 by NSF Racial Equity in STEM grant in collaboration with scientists at the University of Texas El Paso (UTEP). UTEP is the lead institution for the University of Texas System Louis Stokes Alliance for Minority Participation (LSAMP). This partnership aims to help the Alliance better understand the STEM career trajectories of Latina/o students at Hispanic Serving Institutions.
The project team will document the assets, experiences, and relationships of a group of Latina/o students each fall over the course of 3 years and will employ new quantitative techniques for assessing their Community Cultural Wealth (CCW) during their college-to-career transition. The longitudinal mixed-method design is among the first to combine CCW with ego network analysis. This not only expands the epistemologies and methodologies available to STEM education researchers, but more broadly speaking, can inform institutions of higher education as they develop CCW- and social network-based STEM programming to support Latina/o students as they work toward their career goals. For more information see:
https://ccwt.wisc.edu/projects/nca/
.
New partnership with Strada Education to administer the National Survey of College Internships (NSCI) in 2023
Our team launched the NSCI in 2017 in response to the lack of rigorous survey instruments that captured details about student experiences with their college internships. After several rounds of piloting the instrument and collecting data with many campuses across the country, we are excited to announce that starting in 2023, the Strada Education Network will be taking the lead on this important project.
CCWT will still collaborate with Strada on analyzing data from the NSCI, but they will be hosting the survey and their excellent team will take this project to new heights, scaling it to serve a national audience in a way that will best serve the internship community.
Some publications from this work include:
Bañuelos, N., Jang-Tucci, K., & Benbow, R. J. (2022). Hispanic/Latino community cultural wealth, social networks, and career development at the University of Wisconsin-Whitewater: A report by the Networks and Cultural Assets Project. University of Wisconsin-Madison and University of Wisconsin-Whitewater, Center for Research on College-Workforce Transitions.
Jang-Tucci, K., Benbow, R. J., & Bañuelos, N. (2022). Hispanic/Latino community cultural wealth, social networks, and career development at the University of Wisconsin-Whitewater: A methods and data compendium to the report by the Networks and Cultural Assets Project (Research Report). University of Wisconsin-Madison and University of Wisconsin-Whitewater, Center for Research on College-Workforce Transitions.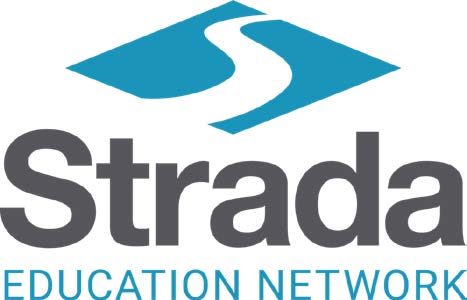 Welcome New CCWT colleagues
Melissa Clemens (Missy)
, CCWT's Operations Manager, holds a Bachelors in Business Administration and a Masters in Education from Edgewood College and recently completed a Certificate in Human Resource Management and Analytics from Wharton School of Business at University of Pennsylvania. In her professional career of over 29 years, she has been fortunate to gain extensive experience in strategic planning, operations management, education, talent management, marketing, human resources, budget management, development and fundraising, executive coaching, and customer service. In her free time, she enjoys doing DIY projects, thrifting, and spending time with family and friends.
Jennifer Schaller
, CCWT's Graphic Designer, is a senior at UW-Madison and is majoring in Fine Arts with a certificate in Digital Studies. She is from Madison, Wisconsin, and she has interests in painting, drawing both traditionally and digitally, graphic design, dancing, and making music on her synth. She was graphics editor for The Daily Cardinal for Spring 2022 and Fall 2022, does art for Bell Magazine, and is currently the Director of Design for JUST. She is also working on a design project this year for J676.
Pa Her, Ph.D., LP.
, is a Clinical Assistant Professor and the Assistant Director of the Counseling Psychology Training Clinic. She obtained her bachelor's, master's, and doctoral degrees from the University of Wisconsin-Madison. Her research examined psychological, social, and cultural factors impacting underrepresented students' educational and vocational development and wellness in higher education. In addition, her clinical interests focus on trauma-informed care for historically underrepresented students in higher education. She enjoys spending time with family and friends, creating storybooks with her sons, and trying different experiences.
CCWT's student researchers paving the way for future scholarship on college-workforce issues
With education and training a key goal of our Center, we have many graduate and undergraduate students directly engaged with our projects and events. These scholars are not just assisting the work but are co-designing our studies and leading specific projects as they develop into the next generation of researchers in our field.
"Growing up, I was told that after college, I will get a job and life will be set; however, in our 21st century world, career development is not that simple. I am excited to bring attention to the university-to-work transition, raise awareness of the challenges, and identify opportunities to make it better for the next-gen."
~Michael A.R. Sanchez, MS
We've got an amazing slate of speakers lined up for our Spring 2023 seminar series, and our team is especially excited for our first annual CCWT conference on November 2nd. Please join us and register for online events here:
https://ccwt.wisc.edu/webinar-series/
.
Spring 2023 Seminar Series
February 22nd at 1pm CST
Dr. Heather Fischer and Dr. Martin Storksdieck, Oregon State University, STEM Research Center - "Assessing skills in postsecondary STEM courses." A conversation with CCWT co-Director Matthew Hora.
April 5th at 12pm CST
Dr. Adrianna Kezar, University of Southern California, Pullias Center for Higher Education - "Organizational change in higher education: Implications for career readiness initiatives." A conversation with CCWT co-Director Matthew Hora.
April 21st at 10am CST
Dr. David Deming, Harvard University (in-person at UW-Madison) Graduate School of Education - "The growing importance of social skills in the labor market: Implications for higher education."
Save the Date for the First Annual CCWT Conference on November 2, 2023!
November 2nd at 11am CST
Dr. Lauren Rivera, Northwestern University, Kellogg School of Management (in-person at UW-Madison as keynote speaker for our 1st Annual CCWT Conference) - "Insights from research on hiring discrimination: Implications for career services and college graduates."
Publications from the CCWT Team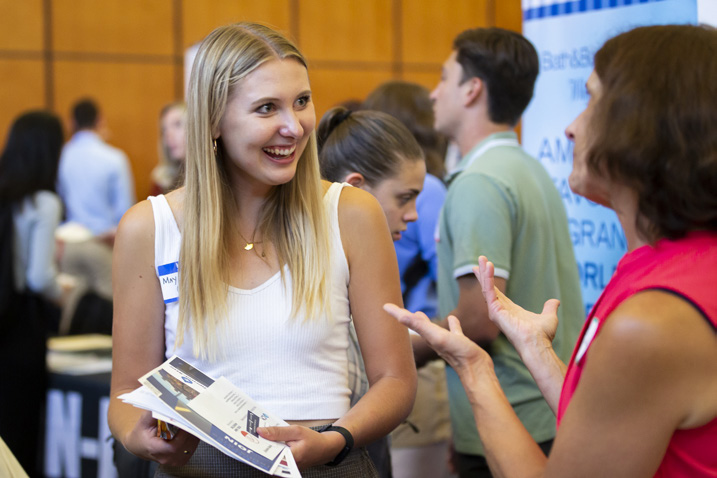 Journal Articles
Hora, M. T., Wolfgram, M., Huerta, A. H., Lee, C., & Gopal, A. (2022). A multilevel, agent-centered analysis of intersectionality in a Hispanic-Serving Institution: The case of college internship access for Latinx students. AERA Open, 8, 1-15.
https://journals.sagepub.com/doi/full/10.1177/23
Benbow, R .J. & Lee, YG. (2022). Exploring student service member/veteran social support and campus belonging in university STEMM fields. Journal of College Student Development, 63(6). https://muse.jhu.edu/journal/238
Benbow, R. J., Lee, C., & Hora, M. T. (2021). Exploring college faculty development in 21st-century skill instruction: an analysis of teaching-focused personal networks. Journal of Further and Higher Education, 45(6), 818-835.
Blustein, D. L., Thompson, M. N., Kozan, S., & Allan, B. A. (2021). Intersecting losses and integrative practices: Work and mental health during the COVID-19 era and beyond. Professional Psychology: Research and Practice, 52(5), 523–532. https://doi.org/10.1037/pro0000425
Juntunen, C. L., Pietrantonio, K. R., Hirsch, J. K., Greig, A., Thompson, M. N., Ross, D., & Peterman, A. H. (2022). Guidelines for Psychological Practice for People with Low-Income and Economic Marginalization: Executive Summary. American Psychologist, 77(2), 291-303. https://doi.apa.org/doi/10.1037/amp0000826
Her, P. & Thompson, M. (2021). Examining the Persistence Intentions of College Students of Color. Journal of Career Assessment. https://doi.org/10.1177%2F10690727211010382
Thompson, M. N., Perez-Chavez, J., & Fetter, A. (2021). Internship Experiences among College Students attending an Historically Black College: A Longitudinal Grounded Theory Exploration. Journal of Career Assessment. https://doi.org/10.1177/1069072721992758
Policy Briefs
Hora, M.T. (2022). Unpaid internships and inequality: A review of the data and recommendations for research, policy, and practice. Policy Brief #2. Center for Research on College-Workforce Transitions. University of Wisconsin-Madison.
Benbow, R. J. (2022, September). Identifying the unique cultural strengths of student service members and veterans: An interview study [Research Brief]. The Veteran Education to Workforce Affinity and Success Study (VETWAYS): University of Wisconsin-Madison.
Media Mentions


An article in The New York Times on 6/11/22, "
Why We Still Haven't Solved the Unpaid Internship Problem
," features research from the CCWT Policy Brief, Unpaid Internships & Inequality: A Review of the Data and Recommendations for Research, Policy and Practice, and the CCWT's National Survey of College Internships 2021 Report.
What we're reading
Here's a selection of new research that is on our collective reading lists:
Bolli, T., Caves, K., & Oswald-Egg, M. E. (2021). Valuable experience: how university internships affect graduates' income. Research in Higher Education, 62(8), 1198-1247. https://link.springer.com/article/10.1007/s11162-021-09637-9
Baert, S., Neyt, B., Siedler, T., Tobback, I., & Verhaest, D. (2021). Student internships and employment opportunities after graduation: A field experiment. Economics of Education Review, 83, 102141.
Dean, B. A., Ryan, S., Glover-Chambers, T., West, C., Eady, M. J., Yanamandram, V., ... & O'Donnell, N. (2022). Career development learning in the curriculum: What is an academic's role?. Journal of Teaching and Learning for Graduate Employability, 13(1), 142-154.
https://ojs.deakin.edu.au/index.php/jtlge/artic
Torpey-Saboe, N. (2022). Alumni perspectives on how college experiences improve their lives. Strada Education Network.
https://stradaeducation.org/public-viewpoint/listening-to-alumni-about-how-education-enriches-lives/

The mission of CCWT is to develop research tools, evidence, and educational programs that promote the career development and wellness of students as they seek post-graduate success. In this work, CCWT seeks to amplify the voices and interests of students of all ages, especially those historically marginalized in higher education, with the ultimate aim of facilitating institutional and societal change.