Hub Updates is the UW-Madison data science community's resource for news, trainings & workshops, and professional opportunities in data science.
If you have feedback on the new format or suggestions for other news, events, and opportunities to include, send us an email at
newsletter@datascience.wisc.edu
.
June 30, 2021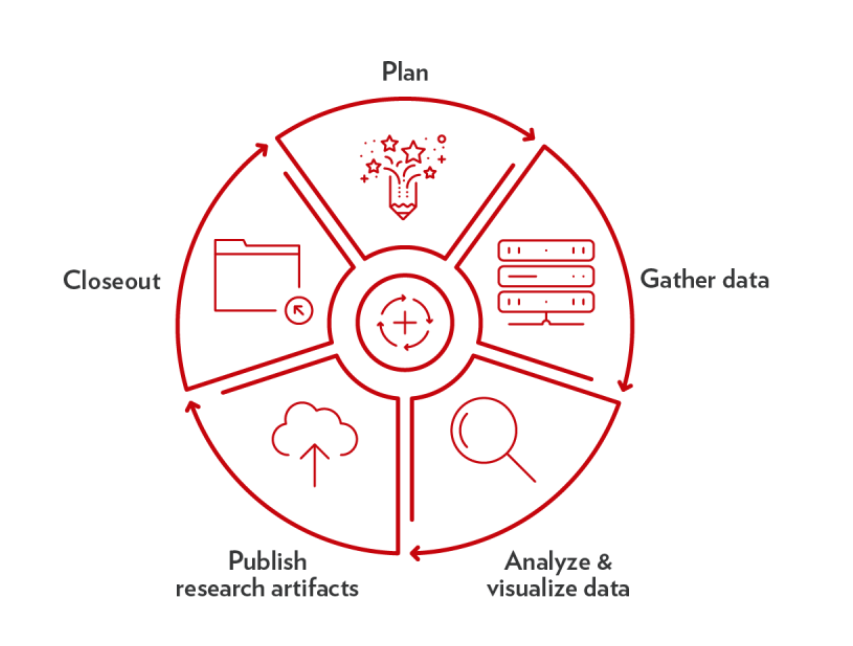 The
Researcher Toolkit
is designed to help UW-Madison faculty, staff, and student researchers navigate the local research resources available to assist with each phase of their research project, from planning to publishing and close-out. To do this, the Toolkit aggregates and organizes our local campus research support resources in order to make it easier to discover and access the help that researchers need
The Toolkit is organized around the research data lifecycle. Users can navigate through the stages of the lifecycle to find highlighted resources that are particularly relevant to each stage as well as tailored lists of all available resources that may be useful.
Upcoming Trainings & Workshops
Geospatial Data Carpentry Workshop at the Data Science Hub
July 8-16, Morning or Afternoon session
. This workshop will consist of 5 days where we meet for discussions that are based off of the material that you work through on your own ahead of time. The full schedule of the workshop and registration information can be found on the
workshop website
.
Register here
by
July 2
.
Software Carpentry Workshop at the Data Science Hub
August 9-20.
Software Carpentry aims to help researchers get their work done in less time and with less pain by teaching them research computing skills. This workshop will covers Unix shell, Git/Git hub, and Python.
Register here
starting
July 6th.
Data Carpentry Genomics Workshop coming soon
More details in the next newsletter.
Next Gen. Data Analysis Workshops at the UW Biotechnology Center/Bioinformatics Resource Core
July 12
, Linux Essentials (bash)
July 19
, Intro to Next Gen Sequence Analysis
July 21
, mRNA-Seq Data Analysis
Upcoming Seminars & Events
Institution for Foundations of Data Science Summer School, UW-Madison
This summer school will introduce participants to a broad range of cutting-edge areas in modern data science with an eye towards fostering cross-disciplinary research. Talks will cover both necessary foundational concepts from statistics, computer science and mathematics as well as latest developments.
Learn more and register here.
Student Assistants, All of Us
All of Us is hiring two students to assist research coordinators with a variety of tasks including tabling at outreach events across Madison, assisting potential research participants, monitoring email, and assisting with data monitoring and reconciliation. This is an excellent position for students interested in public health, research, and outreach/engagement.
Learn more and apply by July 12.
Student Research Assistants, WISC Institute for Sleep and Consciousness
This department is hiring two student assistants to contribute to managing EEG data collection, including performing set-ups for EEG data collection, administering neuro-cognitive tests, ensuring that quality data (EEG, ECG, EMG) are collected, and troubleshooting errors.
Learn more and apply by July 10.
Developer, Wisconsin School of Business
This position will join the Digital Analytics team within the Teaching and Learning Support group at the Wisconsin School of Business; the student assistant will work with a variety of data sources including Microsoft SQL Server, Google Analytics, and institutional data. Tasks include creating ETL (Extract Transform and Load) processes, compiling metrics and insights for reports, testing and validating new strategies, creating and maintaining custom dashboards, and creating and validating predictive models.
Learn more and apply by August 31.
Professional Opportunities
On Campus
Data Warehouse Engineer/Developer II, School of Medicine and Public Health
This person will develop and maintain multiple database systems for the School of Medicine and Public Health. The ideal candidate has an eye for building and optimizing data systems, and will work closely with data analysts, developers, and system administrators to direct the flow of data and ensure consistency for multiple needs.
Learn more and Apply by July 5.
Off Campus
HPC Computational Scientist, Old Dominion University
This position will provide expert-level support in designing, implementation and support of large scale high performance computational and research computing cloud environments. This position will also work closely with faculty and researchers to provide the needed help in the transition of scientific and engineering problems to the high performance computing solutions.
Learn more here
.
Data Analyst, Life Science Intelligence Team at North Carolina Biotechnology Center
NCBiotech seeks a creative problem solver and curious mind to join the Life Science Intelligence (LSI) team as a Data Analyst. The Data Analyst will work with the LSI team to create, maintain and share data from custom databases to deliver actionable intelligence to stakeholders at the Center and in the state.
Apply by July 2nd
.
Learn more here
.
Research Computing Facilitator, University of Oklahoma
OU Information Technology is seeking a technical professional who has a passion for the higher education environment and wants to grow their technical career. This person will work with researchers, educators and other team members to identify and resolve technical obstacles to the work of OU's computing-intensive and data-intensive research and education community, and to facilitate the expansion of research activities.
Learn more here
.
Data Services Librarian, University of Delaware Library, Museums, and Press
The University of Delaware Library, Museums and Press seeks a motivated, creative, and service-oriented professional to join the Digital Scholarship and Publishing department, which is led by the Digital Publishing and Copyright Librarian. This position will collaborate with and support faculty, students, and staff involved in data-focused research and digital scholarship.
Apply by July 11th
.
Learn more here
.
Data Management Lead, Promega
Promega is seeking a candidate to lead a cross-functional team to align program areas with Porta Sophia's overarching mission, and to manage overall workflow for successful acquisition of high-quality prior art sources. Qualified candidates will have demonstrated experience leading a multidisciplinary project. Candidates will be ambitious, creative, and willing to lead new tasks that arise during the evolution of this project.
Learn more here
.
Data Curator, Promega
Promega is seeking a candidate to be responsible for data archival and curation, including, but not limited to, identifying and acquiring new documentation from relevant digital archives/libraries and databases, transfer, qualify and load documentation (digital archive, public and private domain databases).
Learn more here.