Hub Updates is the UW-Madison data science community's resource for news, trainings & workshops, and professional opportunities in data science.
If you have feedback on the new format or suggestions for other news, events, and opportunities to include, send us an email at
newsletter@datascience.wisc.edu
.
Have questions about anything data science-related? Come see us at our drop-in consultations:
Coding Meetup: Tuesdays, 2:30-4:30 p.m. CT

Office Hours: Thursdays, 2:30-4:30 p.m. CT
September 8, 2021
Data Science News
Announcing UW-Madison's Dryad Membership!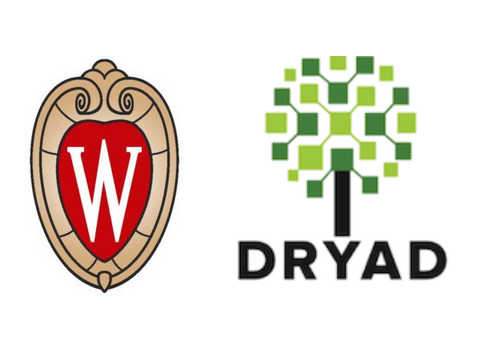 We are excited to announce that UW-Madison is now a member of Dryad, an open-access data repository where you can publish and publicly share your research data. This membership was pursued in partnership between the Libraries and DoIT.
Dryad was started by a community of researchers and is used by researchers worldwide to meet funder and publisher mandates for data publication. Dryad has been a repository we've recommended for a number of years and we are glad to say that with our institutional membership, depositing in Dryad is now free to UW-Madison researchers!
Learn more here.
Research Bazaar 2022 - Seeking Planning Committee Members!
We in the Data Science Hub are just beginning to plan the next
Data Science Research Bazaar
, which will be held in February 2022. The theme is titled, "Data and Communities: Sharing and Protecting Data," and will allow attendees and presenters to explore topics related to (but not limited to):
How communities protect and share data

Data about particular communities (municipal data portals/tribal data/public health data, etc.)

Data ethics (privacy concerns, data ownership, transaction transparency, consent, etc.)

Methodologies and uses of data

Open source projects/code as catalysts of community-building
To encourage participation and representation from as many departments as possible, we are seeking a handful of volunteers to join our conference planning committee! Our meetings take place weekly on Wednesdays from 1-2pm, and there is an expectation that many of the meetings will be cancelled when there isn't a pressing need to meet. If you have some time, and would like to be part of planning this year's research bazaar, please send an email requesting to join the committee to
endemann@wisc.edu
. We could especially use additional representation from social sciences, SMPH, and biology.
Upcoming Trainings & Workshops
Upcoming Seminars & Events
SILO
Sept. 8, "
Multiclass and Multi-Label Learning with General Losses: What is the Right Output Coding and Decoding?"
,
Shivani Agarwal. For Zoom connection details,
join SILO's Google Group
.
Environmental Data Initiative
The selected candidate will work on three projects. They will contribute to developing technology for automated assessment of students' written explanations in Science, working with an expert in computational linguistics. They will work on simulations to support students in learning biology. They will collaborate with researchers in AI to build intelligent technologies for classrooms. For more information and to apply,
visit this page
.
The Field Day project is hiring a student who will work directly with the lead game designer, producer, and lead game engineer to support design and development of prototypes and eventually the addition of features in a final product. The duties include building game prototypes, implementing game features, and participating in collaborative quality control of code and game features. For more information and to apply,
visit this page.
In this position, the student developer's duties include software development, feature engineering and model development, and participation in research team activities to contribute to the Field Day Lab's work in creating an educational game studio.
For more information and to apply, visit this page
.