Hub Updates is the UW-Madison data science community's resource for news, trainings & workshops, and professional opportunities in data science.
If you have feedback on the new format or suggestions for other news, events, and opportunities to include, send us an email at
newsletter@datascience.wisc.edu
.
Have questions about anything data science-related? Come see us at Coding Meetup on Tuesdays and Thursdays from 2:30-4:30 p.m. CT. To join Coding Meetup, join
data-science-hubgroup.slack.com
.
January 12, 2022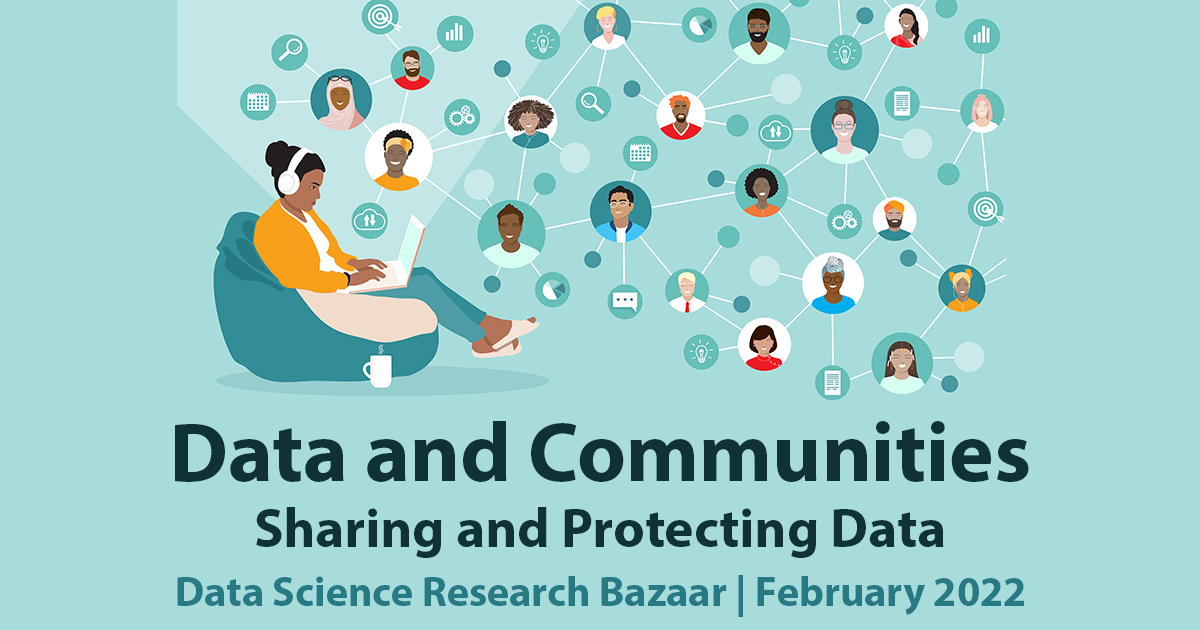 UW-Madison's Data Science Hub is hosting its third annual
Data Science Research Bazaar,
focused on the theme of Data and Communities: Sharing and Protecting Data. This event will be held virtually throughout February. The Research Bazaar will include lightning talks and interactive discussions on a variety of topics related to how communities use and are impacted by data, and workshops focused on tools and resources including RStudio Connect, Jupyter Notebooks, and the Hathi Trust Digital Library. In addition, it will feature a career panel and an exhibit of art relating to science and technology.
The Data Science Research Bazaar is an inclusive, community-building event at UW-Madison for researchers, data scientists, entrepreneurs, and community members, including students. While there is no cost to attend, pre-registration is required. View the full schedule and register
here
.
UW-Madison's Data Science Research Bazaar is modeled off of the international
Research Bazaar
, a worldwide festival that promotes digital literacy in research and aims to equip researchers with digital skills and tools to do their work more efficiently.
Upcoming Trainings & Workshops
Programming Workshop Series, UW-Madison Libraries
Learn essential programming skills during the R workshop series and the Python workshop series. Attend
any or all
of the sessions. Brought to you as a part of the UW Libraries Graduate Support workshop series, these are open to all UW-Madison students, faculty, and staff. Registration is by each individual workshop, not for the entire series. For sessions that are full, participants can join the waitlist and will be able to join subject to availability. For more information and to register,
visit this site
.
February 1st-March 1st,

The Python Series

February 4th-March 4th

, The R Series
Upcoming Seminars & Events
Draper Competition, The University of Texas at San Antonio
Applications due January 31st. Draper Data Science Business Plan Competition
The UTSA Draper Data Science Business Plan Competition is designed for student entrepreneurs globally to advance business ventures that use data science to create value – with the potential to change the world in which we live and work. The competition considers data science broadly as a field of inquiry and application encompassing computing, mathematical, or statistical methods and technologies in synergy with domain expertise and big data sets to solve unmet problems. To learn more about the competition,
visit this site
.
GIS Developer or Technician Intern, The State Cartographer's Office at UW-Madison
The State Cartographer's Office is currently recruiting to fill multiple roles! If you want to get more experience with GIS data processing and development, you can help out with projects like the statewide parcel map initiative using tools including ArcMap/ArcGIS Pro, PostgreSQL, Python, and more. Are Web apps your more your thing? We always need people that can help us create and maintain a wide range of online apps using JavaScript, Leaflet, and other Web technologies. Successful candidates typically have some level of experience in one or more of these areas, but we don't expect you to know it all. Most students start out knowing the basics, and we give them room to grow their expertise. Your specific role (GIS developer or GIS tech) will depend upon previous experience and your future career goals.
Positions are opened until filled.
Apply here
.
Machine Learning Internship, John Deere
The internship position requires background in Optimization, Deep Learning and Machine Learning. Potential projects are in the domain of emerging control schemes using Reinforcement Learning, developing virtual sensors for state estimation, Deep Learning/Machine Learning/Physics based models for Prognostics and Deep Learning for Radar based applications. The Intern will also develop design documentation for each design in a neat and organized fashion for approval by supervisor and engineering personnel. The Intern will also work with other engineering disciplines and other project team members as directed during feature/product development. The Intern will develop and present technical and business presentations to leadership and engineering personnel on the work performed during internship. Interested students should contact Lav Thyagarajan for more information (
thyagarajanlav@johndeere.com
).
Machine Learning Research Intern, Arm
Arm Research's Austin office is seeking an intern for summer 2022, with a focus on machine learning. This research-based opportunity is especially suitable for students currently in master's or doctoral programs with solid understanding of machine learning. Interested students should send their resume to Dibakar Gope (
dibakar.gope@arm.com
).
Scholarships and Fellowships for Undergraduates
Hilldale Undergraduate/Faculty Research Fellowships and Holstrom Environmental Research Fellowships:
The Hilldale Fellowships
support undergraduate research done in collaboration with UW–Madison faculty or research/instructional academic staff during summer 2022 or the 2022-23 academic year. The student researcher receives $3,000, and the faculty/staff research advisor receives $1,000 to help offset research costs. Students must have at least junior standing at the time of application.
Sophomore Research Fellowships
support undergraduate research done in collaboration with UW–Madison faculty or research/instructional academic staff during summer 2022 or the 2022-23 academic year. The student researcher receives $2,500, and the faculty/staff research advisor receives $500 to help offset research costs. At the time of application, the student must be a sophomore, a freshman who will have more than 24 credits after May 2022, or a transfer student in their first year of attendance at UW-Madison. The application deadline is February 28, 2022.
Public Humanities Exchange for Undergraduates (HEX-U)
is a public humanities grant that provides training, mentoring, and funding for UW-Madison undergraduates as they plan and implement creative, humanities-inspired projects in the local community. The program creates a bridge for the students to collaborate with a community partner (public library, museums, schools, non-governmental organizations, community centers, etc.) to execute projects that identify and respond to community needs. Each student or team of students receive a $600 stipend award, up to $2000 in project funds, and mentorship from staff. The spring application deadlines are February 3 and March 31, 2022.
Wisconsin Idea Fellowships
are awarded annually to undergraduate student projects working towards addressing a challenge identified along with a local or global community partner. Fellowships are awarded to semester-long or year-long projects designed by an undergraduate student (or group of students) in collaboration with a community advisor at a community organization and a UW–Madison faculty or academic staff member. Projects can receive up to $7,000 in total funding and students receive 3 academic credits. The application deadline for 2022-23 fellowships is February 11, 2022. There is a priority deadline of January 28, 2022 for applicants seeking proposal feedback from the Wisconsin Idea Fellowship Advisor.
Professional Opportunities
On Campus
Data Scientist, School of Medicine and Public Health
The position involves a key role in a research team to participate in big data analytics in health sciences with a focus on ophthalmology. This involves working with large datasets from various sources, collaborate with ophthalmologists and researchers to develop predictive models to aid in detection diagnosis and management of patients with ocular diseases. This is a great opportunity to work on interesting projects in a highly collaborative environment with a goal to implement big data analysis in preventing and curing blindness.
Apply by January 26.
Associate or Professor of Computer Sciences, School of Computer, Data, and Information Sciences
This position is one of three new faculty positions that are part of a cluster hire in ethics of computing, data, and information Applicants should demonstrate an interest in and ability to do collaborative, cross-disciplinary work with other cluster members on important ethical questions in computing, data, or information. Of specific interest for computer science are candidates researching issues of algorithmic fairness, accountability, and transparency, broadly construed. Tenure home will be determined at the time of hire based on the selected candidate's qualifications and interests.
Open until filled.
Off Campus
Large-Scale Data Management Senior Software Engineer, Oak Ridge National Laboratory
Oak Ridge National Labs seeks an expert software developer/engineer who excels in developing scalable data management software systems, and at solving interdisciplinary problems. The Oak Ridge National Laboratory (ORNL) operates several simulation and experimental facilities such as the Oak Ridge Leadership Computing Facility (OLCF), Spallation Neutron Source (SNS), Center for Nanophase Materials (CNMS), Building Technology Research and Integration Center (BTRIC), and several others, that produce large volumes of data. There is the immediate need to manage these petabytes of data efficiently and provide user-facing tools for organizing, cataloging, curating, publishing, and searching the data assets. For more information and to apply,
visit this site
.
Coding Instructor, New York Public Library
The New York Public Library is looking for talented coding instructors, trainers or industry professionals to join their team and help New Yorkers achieve their app development dreams. This position is for someone interested in community development through education. The selected applicant will be supporting adult learners of diverse careers, educational backgrounds, and cultures as they embark on their app development journey. The NYPL offers technology classes in more than 80 libraries across the Bronx, Manhattan and Staten Island. Topics include MS Office, Internet basics, coding languages, graphic design, 3D printing, audio production, video production, podcasting and more. For more information and to apply,
visit this site
.
Data Management Librarian, Texas State University
The Texas State University Libraries are hiring a Data Management Librarian. The Data Management Librarian position builds relationships with faculty, staff, and students, promotes data literacy, and develops strategies to meet emerging needs. The person in this role will collaborate with Libraries staff, the Office of Research and Sponsored Projects, Information Technology, and other campus partners to build awareness around research data management best practices and data services offered to Texas State University researchers. For more information and to apply,
visit this site
.
Career Instructor of Data Science, University of Oregon
The Clark Honors College, a liberal arts honors college within the University of Oregon, invites applications for a career faculty member with demonstrated teaching excellence in applied data science. The faculty member will design and offer lower and upper division science courses that that support students from all majors in learning how to analyze structured and unstructured data, frame/define problems in accurate, socially conscious, and just ways, consider what it means to measure equitably, and explore how technologies and findings affect marginalized communities. For more information and to apply,
visit this site
.