Hub Updates is the UW-Madison data science community's resource for news, trainings & workshops, and professional opportunities in data science.
If you have feedback on the new format or suggestions for other news, events, and opportunities to include, send us an email at
newsletter@datascience.wisc.edu
.
Have questions about anything data science-related? Come see us at Coding Meetup on Tuesdays and Thursdays from 2:30-4:30 p.m. CT. To join Coding Meetup, join
data-science-hubgroup.slack.com
.
January 26, 2022
Data Science News
Research Bazaar Raffle: Attend to Win a $25 Gift Card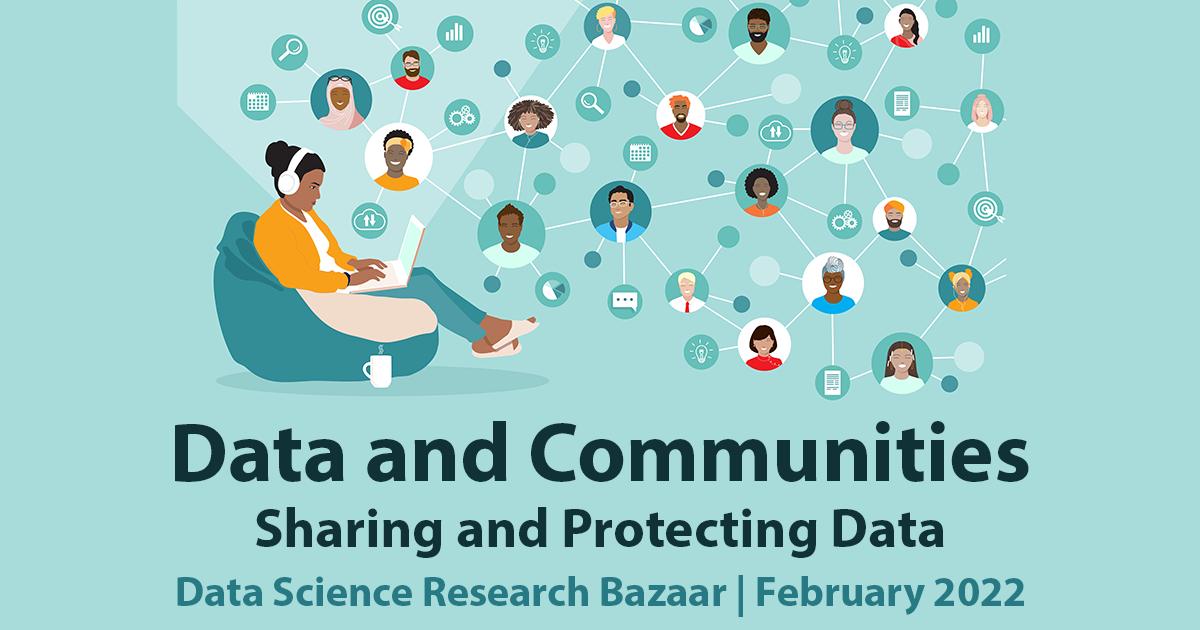 UW-Madison's Data Science Hub is hosting its third annual
Data Science Research Bazaar
, focused on the theme of Data and Communities: Sharing and Protecting Data. This event will be held virtually throughout February. The Research Bazaar will include lightning talks, a poster session, and interactive discussions on a variety of topics related to how communities use and are impacted by data, and workshops focused on tools and resources including RStudio Connect, Jupyter Notebooks, and the Hathi Trust Digital Library. In addition, it will feature a career panel and an exhibit of art relating to science and technology.
There will be the opportunity to win a $25 gift card for
Food Fight
restaurants during the poster session: collect keywords from at least 6 poster presenters, artists, or sponsors to be entered into a raffle to win a gift card!
The Data Science Research Bazaar is an inclusive, community-building event at UW-Madison for researchers, data scientists, entrepreneurs, and community members, including students. While there is no cost to attend, pre-registration is required. View the full schedule and register
here
.
Upcoming Trainings & Workshops
Introduction to R, Social Science Computing Cooperative
January 31st, 10:00 a.m.,
If you are looking to learn what R is about or need to complete coursework using R, this class is for you. This course introduces attendees to inputting data into R, working with data sets, graphing using ggplot, and a few statistics operations. Researchers who will be using R are encouraged to consider our full R For Researchers class.
Register here.
Introduction to Stata, Social Science Computing Cooperative
January 31st, 2:00 p.m.,
Stata is a popular statistical analysis software, as it is both very powerful and relatively easy to learn. This class is primarily intended for students who need to use Stata in their classes, but either aren't doing research yet or don't anticipate doing much quantitative research.
Register here.
NVivo Software Basics, UW-Madison Libraries
February 1st, 12:00 p.m.,
NVivo is a data analysis software that can be used with qualitative data, such as interview transcripts and textual survey responses. It provides a suite of textual and metadata analysis tools such as word frequency analysis and cross-tabulation analysis.
Register here.
Data Wrangling in R, Social Science Computing Cooperative
February 2nd-23rd, 10:00 a.m.,
"Data Wrangling" is the process of preparing data for analysis. This course will cover importing data, cleaning data, creating and transforming variables, extracting and merging data, and reshaping data. It is a hands on class with time devoted to practicing using these tools to ready data for analysis.
Register here.
Data Wrangling in Stata Part 1, Social Science Computing Cooperative
February 2nd-9th, 2:00 p.m.,
"Data Wrangling" is the process of preparing data for analysis, which includes importing, cleaning, recoding, restructuring, combining, and anything else data needs before it can be analyzed. In part one, we'll focus on reading data into Stata, and then the first steps in understanding its structure and cleaning it up for use.
Register here.
Stata Workshop: Regression Models and Diagnostics, Social Science Computing Cooperative
February 3rd-10th, 9:00 a.m.
, This workshop is a refresher in specifying, interpreting linear models (regression, ANOVA), and in approaches diagnosing potential problems with them using Stata.
Register here.
Upcoming Seminars & Events
SILO Seminar Series
This semester there will be hybrid seminars, with both in-person and virtual (Zoom) participation. The number of in-person attendees will be limited to 20 people (we will possibly increase this number later in the semester). In person will be notified the Tuesday around 10 p.m. before each SILO.
Accelerating Science with the Most and Least Human AI with James Evans, HAMLET
February 5th,
This talk is work done by both Jamshid Sourati, Santa Fe Institute and James Evans, University of Chicago and Santa Fe Institute. To learn more about this session,
visit this site.
Hosted by the Data Science Hub's Machine Learning Community, ML+X is a monthly recurring seminar which features 10-minute lightning talks on applied machine learning work. Anyone who is applying machine learning in their work is welcome to present and join the conversation! To review the presentation format requirements and apply to present, please fill out this
google form
.
Computational Research Assistant, The Mandel Lab
The Mandel Lab is seeking someone for a pangenomics project. This would be a primarily computational position that would examine patterns of bacterial colonization factors across diverse microbes; and/or conduct a pangenomic analysis of 100+ Vibrio fischeri strains. Requirements are proficiency with the command line, basic understanding of bacterial genomics, and some experience or the ability to learn: Python and/or R, Jupyter notebooks, Anvio. Interested students should contact Mark Mandel for more information (
mmandel@wisc.edu
)
.
Student Researcher, School of Medicine and Public Health
The Artificial Intelligence unit within the department of Ophthalmology and visual sciences is a new research center working on developing AI applications for ophthalmic imaging. These include a large amount of specialized datasets that require to be prepped and organized to be made AI/ML ready. The work is ongoing and spans across all semesters.
Open until filled.
Software Developer, People and Robots Lab
This job will be held in the People and Robots Lab (PRL) in the Computer Sciences Department.
In Spring 2022, this position will entail assisting a graduate student in developing a mobile application for Android. The purpose of the mobile application will be for end users to specify different tasks for a robot to complete in the household or workplace. The position will heavily involve the Unity editor and programming in C#.
Open until filled.
Virtual Employer Mock Interviews: Tech, Data, and Analytics, SuccessWorks
February 2nd, 1:00 p.m.,
Employer mock interviews are as real as it gets, but without the stress or pressure of an actual interview. Whether you're a first-year student or a graduating senior, you're encouraged to participate. Plus, you'll get to meet and learn from an employer in your field of interest. Participate in a virtual mock interview and receive helpful feedback, build your skills, and increase your confidence when it comes to interviewing.
This event is open to L&S students only.
Register by January 31.
How to Get an Internship in Tech, Data, and Analytics, SuccessWorks
February 3rd, 5:00 p.m.,
It's not too late to get a summer internship in the tech, data or analytics field! This in-person workshop at Computer Sciences – Room 1240 will help you make a plan to find an internship during the spring semester, learn about timelines and options to explore, and get answers to your general questions about the internship search. Plus, you'll learn about seven strategies you can try now to get the internship you need.
Register here.
Taste of Success: Tech, Data, and Analytics, SuccessWorks
February 8th, 4:00 p.m.,
Want to learn more about careers in technology, data, or analytics? Stop by this informal panel session to get tips and advice from UW alumni professionals who work in this field. Feel free to drop in whenever you like and just listen, but you'll also have the opportunity to ask questions and make professional connections.
Register here.
Professional Opportunities
On Campus
Post-Doctoral Position, GASCH Lab at the Laboratory of Genetics
This IGVF-funded position will develop and apply new methods that incorporate evolutionary biology, phenolog evolution, and comparative genomics to both exploit and study how functional networks evolve. These approaches will be integrated into a larger collaborative project that is using network inference to predict causal genetic variants from human patients with rare disorders. This is an exciting opportunity for individuals with experience in comparative genomics, model-organism genomics, evolutionary biology, and/or human genetics to expand their expertise in new ways. For more information and to apply,
visit this site.
Database Administrator, Wisconsin State Lab of Hygiene/Information Technology
This position is responsible for working with a team to ensuring optimum performance, integrity, and availability of enterprise and departmental databases and their related infrastructure components. In addition to providing database related support to other staff. As part of our operation team you will also provide application administration support for many of our Enterprise systems. This includes installation, monitoring and troubleshooting problems.
Apply by February 2.
Database Administrator, Wisconsin Registry for Alzheimer's Prevention
We are looking for an experienced Database Administrator to join the data and informatics team of the Wisconsin Registry for Alzheimer's Prevention (wrap.wisc.edu) and its several linked Alzheimer's disease research studies. The incumbents responsibilities will include, but are not limited to, managing the WRAP database, supporting database users, extracting and transforming data, identifying data trends, quality assurance within our database and between multiple platforms, and disseminating data to internal and external collaborators.
Apply by January 28.
Data Scientist, University of Wisconsin-Madison Alzheimer's Institute
The University of Wisconsin-Madison's Wisconsin Alzheimer's Institute (WAI) is seeking a data management professional to join our team. The WAI seeks to promote health equity and improve the quality of life of people living with Alzheimer's disease and other dementia and their families through education, clinical care, community engagement, public health and research. The successful applicant will be a detail-oriented self-starter who can work as part of a team to develop databases and implement processes to effectively collect, manage and summarize data for evaluating the effectiveness of these programs.
Apply by January 28.
Software Engineer/Developer, American Family Insurance Data Science Institute
The mission of the American Family Insurance Data Science Institute (DSI) is to perform cutting-edge research in the fundamentals of data science and to catalyze the translation of this research into practice to advance scientific discovery in collaboration with researchers across campus and beyond. The institute and the School of Computer, Data and Information Sciences (CDIS), as well as other campus partners, will engage synergistically in ways that amplify impact through data science thought leadership, innovation, talent development and knowledge/technology transfer.
Apply by February 1.
Off Campus
Science Metrics Data Analyst, Space Telescope Science Institute
STScI is seeking a Science Metrics Data Analyst II to join the Library team in the Science Mission Office. Under the general direction of the Branch Manager and with support from the Science Metrics Lead, the Science Metrics Data Analyst contributes to the metrics program by gathering key science metric information and making those metrics available through database tools and reports.
Apply by February 11
.
Data Services Coordinator, University of Nevada Reno
The University of Nevada, Reno seeks a collaborative and user-centered Assistant/Associate Professor, Data Services Coordinator. This newly envisioned tenure-track position will lead the University Libraries' Research Data Services initiative, working to develop interdisciplinary services in data analysis and visualization, and expand upon existing efforts in GIS, data management, and data literacy instruction. The Data Services Coordinator will collaborate with library colleagues, teaching and research faculty, and students from across campus. This position will report to the Head of the DeLaMare Science & Engineering Library. For more information and to apply,
visit this site.
Data Librarian, Union College
The Data Librarian will provide expertise in a variety of data methods and types, supporting students, faculty, and staff in data discovery, creation, visualization, and dissemination. As a member of Research Services, the Librarian will be the main point of contact for data-related research questions and course instruction, and they will apply best pedagogical practices to foster digital literacy on campus. The Data Librarian will work closely with library and campus partners to support and advise faculty and student researchers on sustainable workflows and best practices to ensure the discoverability, accessibility, and reproducibility of their datasets. The Librarian will also train and supervise student workers to support the use of open data and data in our collections. For more information and to apply,
visit this site.
Senior Software Engineer, Oak Ridge National Laboratory
The Data Lifecycle and Scalable Workflows Group at Oak Ridge National Laboratory is seeking a senior software engineer focused on large-scale data management and storage. The Oak Ridge National Laboratory (ORNL) operates several simulation and experimental facilities such as the Oak Ridge Leadership Computing Facility (OLCF), Spallation Neutron Source (SNS), Center for Nanophase Materials (CNMS), Building Technology Research and Integration Center (BTRIC), and several others, that produce large volumes of data. There is the immediate need to manage these petabytes of data efficiently and provide user-facing tools for organizing, cataloging, curating, publishing, and searching the data assets. We are seeking an expert software developer/engineer who excels in developing scalable data management software systems, and at solving interdisciplinary problems. For more information and to apply,
visit this site.