Hub Updates is the UW-Madison data science community's resource for news, trainings & workshops, and professional opportunities in data science.
If you have feedback on the new format or suggestions for other news, events, and opportunities to include, send us an email at
newsletter@datascience.wisc.edu
.
Have questions about anything data science-related? Come see us at Coding Meetup on Tuesdays and Thursdays from 2:30-4:30 p.m. CT. To join Coding Meetup, join
data-science-hubgroup.slack.com
.
June 1, 2022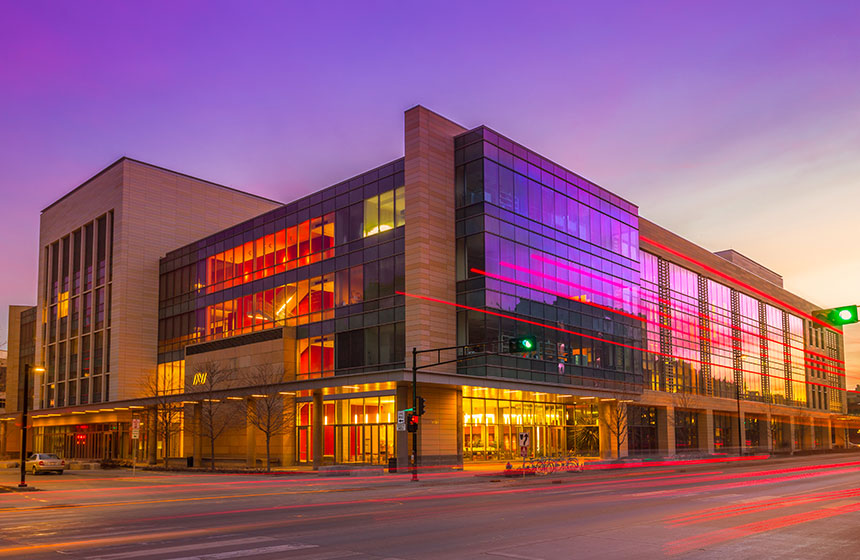 The Data Science Hub at the University of Wisconsin-Madison is
hiring
a facilitator! This position includes developing and organizing Carpentries workshops, collaborating with researchers on research projects, and otherwise supporting researchers in using data science and computing. Read more in the
data science facilitator position description
and apply by
June 20th
.
Upcoming Trainings & Workshops
Fundamentals of Deep Learning, NVIDIA
In this workshop, you'll learn how deep learning works through hands-on exercises in computer vision and natural language processing (tokenization and word embeddings). You'll train deep learning models from scratch, learning tools and tricks to achieve highly accurate results. You'll also learn to leverage freely available, state-of-the-art pre-trained models to save time and get your deep learning application up and running quickly. The workshop takes place virtually on July 13-14, 8:30 a.m. - 12:30 p.m. (CT). For more information and to register ($10 for UW-Madison affiliates),
visit the Fundamentals of Deep Learning Eventbrite page
.
Upcoming Seminars & Events
SILO, Summer Series
Summer SILO will meet at Memorial Union from 4 p.m. to 5 p.m. every Wednesday. Each week they will have an informal presentation about ongoing research activities, open problems, or new research directions to stimulate discussion and potentially new collaborations. Professor Tim Rodgers will be speaking today about the AI+Society Initiative at UW-Madison. Check Today in the Union (TITU) in the union lobby for the meeting location.
Treasurer Position, Data Science Club
The UW Data Science Club is looking for a student Treasurer to join their team. Interested students should fill out the
2022 Board Application
to apply and will be contacted to conduct an interview shortly after.
MOVIN Research Undergraduate, School of Nursing
The University of Wisconsin–Madison School of Nursing is the leading nursing research institution in Wisconsin and a crucial part of the state's health care system. The main responsibilities of this position includes data collection through EHR, data collection over the phone, data entry, preparation of data collection packets, identifying issues in the data set, and other research office support as needed. For more information and to apply, visit the
MOVIN Research Undergraduate position description
.
Professional Opportunities
On Campus
Research DevOps Engineer, Wisconsin IceCube Particle Astrophysics Center
The cyberinfrastructure team at the Wisconsin IceCube Particle Astrophysics Center (WIPAC) at the University of Wisconsin-Madison is seeking a DevOps engineer to join our software and operations team. This team helps further the exploration of scientific frontiers by supporting scientists with the applications and systems necessary to enable and improve scientific workflows and processes. These computational workflows require the analysis of a sizeable data set (10 PB) and use of thousands of CPUs and GPUs in steady state operation. Those resources are distributed around the world and require sophisticated middleware and services to manage and operate in an efficient way. For more information and to apply, visit the
Research DevOps Engineer position description
.
Data Scientist, College of Agriculture and Life Sciences
The interdisciplinary team at the University of Wisconsin seeks a Data Scientist to help them monitor the carbon cycle using geostationary ("weather") satellites. They seek to monitor photosynthesis in real time across the U.S. to explore how it responds to the weather systems that these satellites also measure. This position will involve downloading and processing geostationary satellite data to help us understand how these observations are related to carbon cycling, water cycling, and the productivity of agricultural and forested ecosystems. For more information and to apply, visit the
Data Scientist position description
.
Off Campus
Data Technology Specialist, New York University
Under the direction of the Senior Manager, Data Analysis & Integration (DAI) within Knowledge Access & Resource Management Services (KARMS), the Data Technology Specialist will analyze new requests, evaluate, document and help implement tasks and projects in collaboration with senior DAI members and various KARMS departments such as Resource Management, Knowledge Access, and Archival Collections Management. Assist in the execution of various projects that will analyze and quantify risk, develop improvements and sustain efficiency and effectiveness across different functional areas. For more information and to apply, visit the
Data Technology Specialist position description
.
Librarian-Data Visualization, University of Texas at Arlington
The Data Visualization Librarian serves as an expert consultant and partner to UTA students, faculty, and staff regarding data analysis and visualization. This librarian will be responsible for providing public-facing services focused on data visualization via the Libraries DataCAVE, course-integrated instruction, workshops, and consultations. The Data Visualization Librarian must demonstrate a commitment to justice, equity, diversity, and inclusion initiatives that grow and develop our staff, services, and outreach to our community. This is a non-tenure track position. For more information and to apply, visit the
Librarian-Data Visualization position description
.