Hub Updates is the UW-Madison data science community's resource for news, trainings & workshops, and professional opportunities in data science.
If you have feedback on the new format or suggestions for other news, events, and opportunities to include, send us an email at
newsletter@datascience.wisc.edu
.
Have questions about anything data science-related? Come see us at Coding Meetup on Tuesdays and Thursdays from 2:30-4:30 p.m. CT. To join Coding Meetup, join
data-science-hubgroup.slack.com
.
November 2, 2022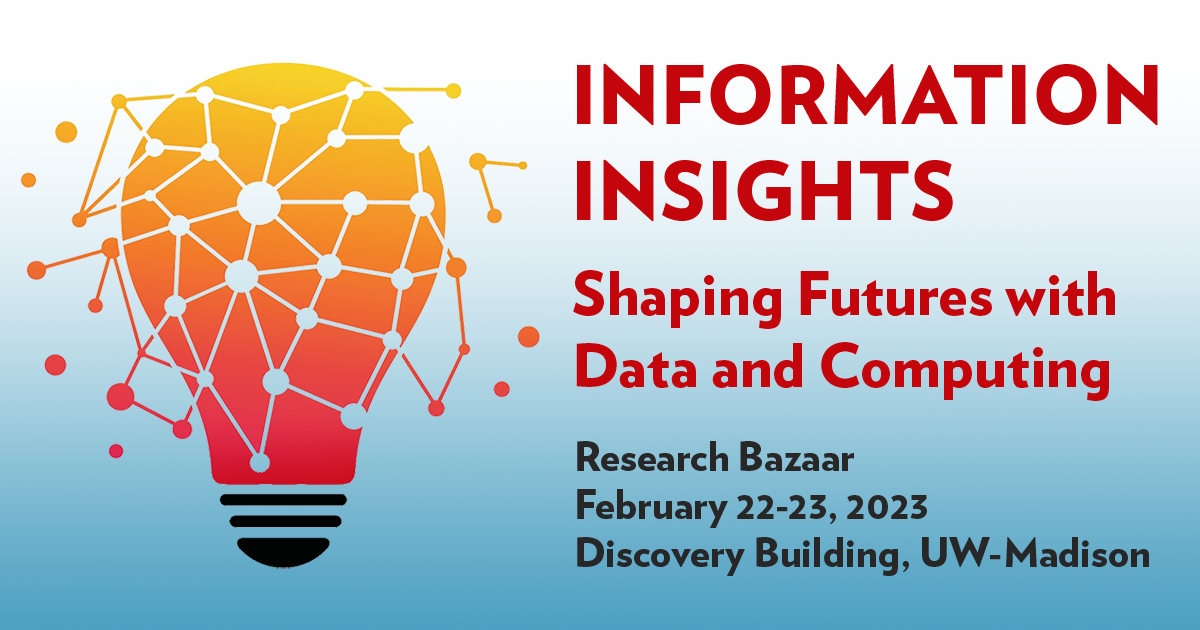 UW-Madison's Data Science Hub seeks submissions for its 4th annual Research Bazaar, which will run throughout February 2023 and is focused on the theme of
Information Insights: Shaping Futures with Data and Computing
. This theme encompasses and addresses:
Insights from machine learning and computing

Ethics of data-driven decision making

Unlocking insights from digitized information

Methodologies and tools

Skill sharing, collaboration, and education
The conference will feature
lightning talks
, a
poster session
,
interactive discussions
,
workshops
, and an
"art meets science"
exhibit. Presentations from researchers and data scientists from all disciplines, industries, and career stages, including students, are all welcome. Submission forms are linked in the text above — simply click on the presentation type of interest for details. With the exception of art submissions (due January 1st, 2023),
proposals are due November 10th
. For more information, please visit the
2023 Research Bazaar website
.
Upcoming Trainings & Workshops
Fall 2022 Mini Workshop Series, Data Science Hub
November - December, 9:00 a.m. to 12:30 p.m. CT, Virtual,
The Data Science Hub will be hosting a series of mini workshops starting this fall. This series will include topics such as:
Nov 16-17: Intro to Docker

Nov 30: Data Visualization in Python

Dec 14: Intro to Julia
Upcoming Seminars & Events
SILO Seminar Series
SILO is about breaking down the systems, information, leaning, and optimization of research created by academic department boundaries. Recent advances in information science are allowing scientists and researchers to sense, process and share data in ways and scales previously impossible. These developments have the potential to benefit work happening in a wide range of disciplines. SILO's purpose is to help realize such potential by providing the time and space for researchers to present and interact to find common threads. SILO seminars take place at 12:30 p.m. every Wednesday. Visit the
SILO webpage
for information about their upcoming talks.
A Primer on the Meta Universe, CDIS RED Talk
November 10, 4:00 p.m. to 5:00 p.m., 1240 Computer Sciences,
The "Metaverse" is currently one of the hottest buzzwords in the internet technology space, but, as with many buzzwords, the concept is poorly defined and often misapplied to companies and products that are only tangentially related to the core concept. Roblox has spent the last 18 years building our version of the metaverse: a user-generated content platform powering online immersive human co-experience. In this talk, speaker Claus Moberg will explore the key feature set that any platform must have to be competitive within the metaverse platform space and will take a look at Roblox's unique approach to satisfying this list of requirements. Visit the
RED Talk google form
to register.
GPU/Machine Learning Demo, Center for High Throughput Computing
November 16, 1:30 p.m., 1240 Computer Sciences,
CHTC will be hosting a demo of running Machine Learning jobs on GPU resources. A Q+A will also be available after the demo. No preparation is needed and all questions are welcome.
Team Triathlon - Social Event, dotData
November 2, 6:00 p.m. to 8:00 p.m., 1240 Computer Sciences,
dotData will be hosting a social event this evening featuring games, pizza, music, and prizes for those who participate. Sign up for the
dotData newsletter
for updates about upcoming events.
Introduction to Computational Learning Theory, UW-Madison Course Guide
Introduction to Computation Learning Theory (CS 639) will focus on developing the core concepts and techniques of computational learning theory. Students will examine the inherent abilities and limitations of learning algorithms in well-defined learning models. Specifically, the course will focus on algorithmic problems in supervised learning. Students will also study algorithms for learning Boolean functions from labeled examples in a number of models (online learning, PAC learning, SQ learning, learning with noise, etc.). This course will be offered next semester and taught by Ilias Diakonikolas. Advanced undergraduates and beginning graduates recommended. For more information about this course, visit the
Spring 2020 syllabus.
Professional Opportunities
On Campus
Data Scientist - Okonkwo Lab, School of Medicine and Public Health
Research in the Okonkwo Lab has an overarching goal of establishing effective prevention of Alzheimer's disease, with specific focus on investigating how the link between brain changes and cognitive decline is modulated by both modifiable and non-modifiable factors.The successful candidate in this position will be actively engaged in cutting-edge research studies under the direction of Dr. Okonkwo, focusing on a variety of questions including lifestyle and genetic factors related to cognitive resilience, biomarkers of Alzheimer's disease, and health disparities. Data repositories of interest could be either locally-generated or sourced from external, multi-site studies. For more information and to apply, visit the
Data Scientist position description
.
Apply by November 8
.
Data Engineer, UW Critical Care Medicine Data Science Lab
The data engineer will work within the UW Critical Care Medicine (ICU) Data Science Lab under the Direction of Drs. Matthew Churpek, Anoop Mayampurath, and Majid Afshar, whose research focuses on using electronic health record data to improve the care of hospitalized patients via clinical decision support systems. They are seeking a clinical data engineer to contribute to cutting-edge research in the field of health informatics with a focus in wrangling and curating multi-center healthcare datasets spanning millions of patients and billions of data elements. The individual will contribute and grow a large clinical data pipeline that addresses data quality assurance via conformance, completeness, and plausibility checks. For more information and to apply, visit the
Data Engineer position description
.
Apply by November 4
.
Off Campus
Junior Group Leader, Centre for Genomic Regulation
The Junior Group Leader position is a 5-year contract renewable for a total of 9 years depending on external peer-review, and structural funding to cover salaries and consumables for up to three people depending on their qualifications. CRG will offer an equipped laboratory, or office space, for 7-9 people with access to cutting-edge core facilities. CRG is currently looking for 2 Junior Group Leaders in the specific areas of interest in quantitative cell and development biology, as well as medical genomics. For more information, visit the
Junior Group Leader position description
.