Hub Updates is the UW-Madison data science community's resource for news, trainings & workshops, and professional opportunities in data science.
If you have feedback on the new format or suggestions for other news, events, and opportunities to include, send us an email at
newsletter@datascience.wisc.edu
.
Have questions about anything data science-related? Come see us at Coding Meetup on Tuesdays and Thursdays from 2:30-4:30 p.m. CT. To join Coding Meetup, join
data-science-hubgroup.slack.com
.
November 16, 2022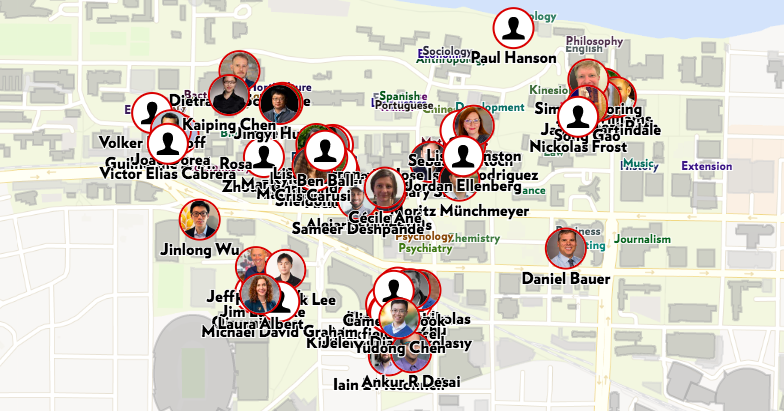 Upcoming Trainings & Workshops
Fall 2022 Mini Workshop Series, Data Science Hub
November - December, 9:00 a.m. to 12:30 p.m. CT, Virtual,
The Data Science Hub will be hosting a series of mini workshops starting this fall. This series will include topics such as:
Each workshop can be registered for separately and has their own pre-requisites. To view the workshop itineraries and register, visit the
Fall 2022 Mini Workshop Series
website.
Upcoming Seminars & Events
SILO Seminar Series
SILO is about breaking down the systems, information, leaning, and optimization of research created by academic department boundaries. Recent advances in information science are allowing scientists and researchers to sense, process and share data in ways and scales previously impossible. These developments have the potential to benefit work happening in a wide range of disciplines. SILO's purpose is to help realize such potential by providing the time and space for researchers to present and interact to find common threads. SILO seminars take place at 12:30 p.m. every Wednesday. Visit the SILO
webpage
for information about their upcoming talks.
Applied and Computational Mathematics Seminar
November 18, 2:25 p.m., 901 Van Vleck,
ACMS will be hosting speaker Casian Pantea (WVU) on Motifs of Multistationarity in mass-action reaction networks. For more information about this subject, visit the
abstract
on the ACMS schedule.
ML+Coffee Social
December 7, 9:00 a.m. to 11:00 a.m., Discovery Building
Hosted by the Machine Learning Community, this monthly social event is intended to help machine learning practitioners across campus connect with one another, discuss and work on projects together, and most importantly — enjoy some free refreshments. Laptops are encouraged. Those who wish to attend are encouraged to bring their laptops and any questions related to their ML projects. To receive an invite containing the room location, fill out the
ML+Coffee registration form
.
2023 Summer Internship Program, Air Force Research Lab
This is a paid summer internship opportunity for students currently enrolled in an accredited college or university at the freshman level through PhD level to work on-site with AFRL researchers on a wide variety of research projects. Applicants may now choose from a listing of research project topics that they would like to be considered for. Examples of research topics available are Data Efficient Machine Learning, Artificial Intelligence, IoT, Small Unmanned Aircraft System, Neuromorphic Computing, Trusted Software, Quantum Information Sciences and much more. For more information and to apply, visit the
Internship Program webpage
. For more opportunities with Air Force Research Lab, visit their
Students and Faculty career page
.
MadData23 Hackathon, dotData
MadData23 is the second edition of dotData's annual hackathon where students are encouraged to form teams and create a data based product, analysis, or paper within 24 hours. dotData is looking for volunteers to help their board members organize the media and marketing for MadData23. Visit the
MadData23 volunteer form
to apply. Sign up for the
dotData newsletter
for updates about upcoming events.
Professional Opportunities
On Campus
Data Scientist, Data Science Institute
The Data Science Institute (DSI) is looking for multiple data scientists to join our growing team. Their mission is to perform cutting-edge research in the fundamentals of data science, to catalyze the translation of this research into practice, and to advance scientific discovery in collaboration with researchers across campus and beyond. DSI's vision is to lead a vibrant, innovative, inclusive, and collaborative data science research community and advance the social good through a coherent research agenda backed by resources, space, and data science expertise. For more information and to apply, visit the
Data Scientist position description
.
Radiology Informatics Data Scientist, Department of Radiology
The Department of Radiology, School of Medicine & Public Health is seeking a Radiology Informatics Data Scientist who will work under the direction of Dr. John Garrett. The Data Scientist will work with the administration and management of clinical research studies and trials. The Radiology Informatics Data Scientist will be responsible for data cleaning and management, the development and maintenance of clinical research databases, helping develop and deploy novel imaging tools, and disseminating new knowledge through abstracts, posters, presentations, and manuscripts. They will be also involved in project monitoring and evaluation, data analysis, oversight of trainees, and dissemination of program results and will work closely with the Department of Radiology's Informatics Analysts. For more information and to apply, visit the
Radiology Informatics Data Scientist position description
.
Data Reporting Specialist, Wisconsin State Laboratory of Hygiene
This position will primarily be responsible for leading the data entry technical activities of Communicable Disease Division's (CDD) Support. These responsibilities include but are not limited to: updating and maintaining standard operating procedures; creating, testing and implementing data entry workflows; training; engaging in quality assurance activities to ensure turn-around-times and other metrics are achieved for regulatory compliance. Position may serve as a laboratory information management system (LIMS) super user for CDD support data entry. This position will also be responsible for aggregating and extracting a variety of data, and generating and preparing reports in support of divisional leadership and other stakeholders, decision-making, analytics, reporting, and publication activities. For more information and to apply, visit the
Data Reporting Specialist position description
.
Off Campus
Tenure Track Faculty Position, Carnegie Mellon
The
Computational Biology Department
within the
School of Computer Science
(SCS) at Carnegie Mellon University, is seeking to hire new tenure-track faculty who share their vision for how computational biology can drive biomedical research. The department is a world leader in the development and implementation of rigorous computational approaches to biomedical research problems. The faculty in the department are playing leadership roles in several large-scale NIH initiatives, including 4D Nucleome, HuBMAP, and SenNet. Applicants within these areas or from entirely new areas are welcomed. For more information and to apply, visit the
Tenure Track Faculty position description
.