Hub Updates is the UW-Madison data science community's resource for news, trainings & workshops, and professional opportunities in data science.
If you have feedback on the new format or suggestions for other news, events, and opportunities to include, send us an email at
newsletter@datascience.wisc.edu
.
Have questions about anything data science-related? Come see us at Coding Meetup on Tuesdays and Thursdays from 2:30-4:30 p.m. CT. To join Coding Meetup, join
data-science-hubgroup.slack.com
.
December 14, 2022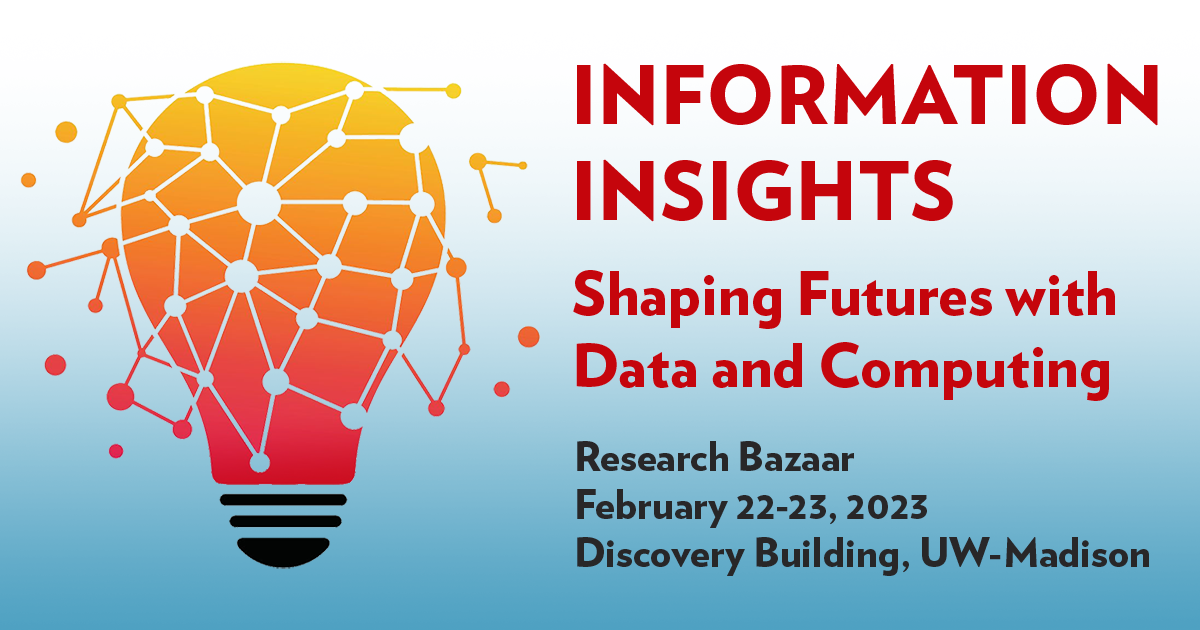 UW-Madison's 2023 Research Bazaar will focus on the theme of Information Insights: Shaping Futures with Data and Computing. It will be mostly in person, February 22-23, at the UW-Madison Discovery Building.
The Research Bazaar (formerly the Data Science Research Bazaar) is an inclusive, community-building event at UW-Madison for researchers, data scientists, entrepreneurs and community members, including students. It is modeled on the internationally occurring Research Bazaar, a worldwide festival promoting the digital literacy emerging at the center of modern research. The aim of these events is to equip researchers from all career stages with the digital skills and tools required to do their research better, faster, and smarter.
Upcoming Trainings & Workshops
Data Carpentry Ecology, Data Science Hub
January 9 - 12, 9:00 a.m. to 12:30 p.m., Online,
Data Carpentry develops and teaches workshops on the fundamental data skills needed to conduct research. Its target audience is researchers who have little to no prior computational experience, and its lessons are domain specific, building on learners' existing knowledge to enable them to quickly apply skills learned to their own research. Participants will be encouraged to help one another and to apply what they have learned to their own research problems. For more information and to register, visit the
Data Carpentry Ecology workshop website
.
Software Carpentry, Data Science Hub
January 17 - 20, 9:00 a.m. to 12:30 p.m., Online,
Software Carpentry aims to help researchers get their work done in less time and with less pain by teaching them basic research computing skills. This hands-on workshop will cover basic concepts and tools, including program design, version control, data management, and task automation. Participants will be encouraged to help one another and to apply what they have learned to their own research problems. For more information and to register, visit the
Software Carpentry workshop website
.
The Art of the Possible, NVIDIA
January 18, 2:30 p.m. to 4:30 p.m., Online,
Learn how GPU-based computing is enabling advanced computing approaches in a variety of disciplinary domains. NVIDIA presenters will demonstrate their latest machine learning applications. Participants will learn about NVIDIA and UW-Madison GPU resources that they can use in their own research. Participants should join the workshop via the
Zoom invite
.
Amazon Web Services (AWS) Research Day
January 19, 9:00 a.m. to 4:30 p.m., Hybrid,
This workshop will highlight AWS services, for machine learning (SageMaker), serverless (Lambda, Athena) and event-driven computation, and server-based hosting. Presenters from AWS and UW-Madison will provide details about how these and similar tools are being used and how participants can get started using them. Participants will also learn about two UW-Madison initiatives designed to help reduce the cost of cloud computing: the NIH STRIDES program for biomedical researchers and the UW-Madison F&A
pilot reduction for cloud computing costs
. Participants can join the workshop via the
Zoom invite
or in-person in Room 3139 at the Computer Sciences Building where lunch and refreshments will be provided.
Upcoming Seminars & Events
SILO Seminar Series
SILO is about breaking down the systems, information, leaning, and optimization of research created by academic department boundaries. Recent advances in information science are allowing scientists and researchers to sense, process and share data in ways and scales previously impossible. These developments have the potential to benefit work happening in a wide range of disciplines. SILO's purpose is to help realize such potential by providing the time and space for researchers to present and interact to find common threads. SILO seminars take place at 12:30 p.m. every Wednesday. Visit the
SILO webpage
for information about their upcoming talks.
Biomedical Engineering Seminar Series
December 15, 1:30 p.m. to 2:30 p.m., Hybrid,
Microscopy images are fundamental for biological research, and quantifying cellular phenotypes is at the core of numerous applications in drug discovery, functional genomics and personalized medicine. While deep learning has been successful to classify objects in natural images, its application in microscopy brings unique challenges for enabling reliable biological analysis. In this talk, two major challenges for learning representations of cellular morphology will be discussed: 1) lack of ground truth annotations for learning, 2) unwanted factors of variation that confound learning and downstream analysis. To tackle these challenges, speaker Dr. Juan Caicedo will present strategies based on weakly supervised and self-supervised learning, as well as approaches to correct confounding factors of variation to obtain robust representations of cellular phenotypes for biological analysis. For more information, view the
Biomedical Engineering Seminar Series flyer
.
Graduate Student Intern, Amazon Alexa
Alexa Information is looking for outstanding graduate students interested in 2023 summer internships with the Alexa Web & Knowledge team. The team primarily works within the scientific disciplines of natural language processing, machine learning, and information retrieval — including projects centered around question answering, query understanding, LLMs, knowledge/content generation, learning to rank, summarization, information retrieval, information extraction, machine translation, multi-modal learning, recommendation systems, dialogue systems, conversational AI, reinforcement learning, amongst others. Alexa Information is a highly interdisciplinary team focused on developing cutting edge methods and building real-world systems at Alexa scale. Each intern will work on a 3-month project in close collaboration with one or more of their scientists. Available locations include Seattle, Bay Area, Los Angeles, Santa Barbara, Berlin, Barcelona, and Boston. Interested applicants should send their resume to
alexa-web-and-knowledge-science-interns@amazon.com
.
Teaching Assistants, CS/ECE 761
Teaching Assistants are needed for CS/ECE 761 "Mathematical Foundations of Machine Learning". Ideal candidates will have taken 761, but other graduate students who have strong mathematical and statistical backgrounds may also be qualified. For reference, view the
outline of the course coverage
. For more information and interested candidates, email Rob Nowak (
rdnowak@wisc.edu
) and Ramya Vinyak (
ramya@ece.wisc.edu
).
Data Science Challenge on Cancer Immunotherapy
January 9 - February 3,
The Eric and Wendy Schmidt Center is organizing a data science challenge on cancer immunotherapy. Namely, given training data on the effect of some genetic interventions on T-cells, the goal is to predict the effect of unseen interventions and identify novel interventions that would make T-cells better at killing cancer cells. No biology background is needed; in fact, we will be providing a crash course as part of the challenge (this challenge is also offered as a course across all departments at MIT). This data science challenge is unique in that the top submissions will actually be validated in the lab, so that participants can see how well their algorithms do in practice on an important biomedical problem. For more information and to register, visit the
Data Science Challenge series topcoder page
. Postdocs are also welcome.
Professional Opportunities
On Campus
Postdoctoral Associates and PhD Candidates, Steel Systems Innovation Research Lab
Join a dynamic and interdisciplinary project dealing with monitoring, modeling, and visualization of damage. The project includes distributed fiber optic sensing, e.g., distributed acoustic sensing (DAS), distributed strain sensing (DSS), and distributed temperature sensing (DTS), and campaigns to monitor structural damage and behavior. Fiber optic sensing campaigns will focus on both new and historic structures in locations around the world. Structural behavior will be assessed via advanced Finite Element (FE) modeling to understand deterioration as a function of changing loading conditions. Mixed reality visualization will aid in damage assessment, remote sensing, and FE model integration. Candidates will work closely as a team involving 3 Postdoctoral Scholars and 4 PhD students with PI Hannah Blum and PI Jesse Hampton, along with skilled augmented reality software engineers. For more information and to apply, view the
position description document
.
Apply by December 15.
Off Campus
Call for Applications, Transatlantic Research Program
The Transatlantic Research Partnership (formerly known as the Thomas Jefferson Fund), is a flagship program bringing together talented youngresearchers in France and in the United States.This program, formerly known as Thomas Jefferson Fund, aims to foster forward-looking collaborative research that engages with pressing global challenges. It offers $20,000 grants to support two-year projects led by two outstanding researchers at the beginning of their careers –– one based in the United States, the other in France. These funds will support transatlantic mobilities of researchers and PhD students, collaborative research activities such as the organization of international workshops or conferences, and the publication of joint articles. Projects can span or combine humanities, social sciences, and STEM (Science, Technology, Engineering, and Mathematics), and their research topics should be related to one or several
United Nations Sustainable Goals
.
For more information and to apply, visit the
Transatlantic Research Partnership webpage
.
Kempner Institute Fellow, Harvard University
The Kemper Institute at Harvard University seeks applicants for Kempner Institute Fellows who will begin their appointments in September 2023. The Kempner Institute is a community of scholars, who work across boundaries and fields to advance our understanding of intelligence, broadly speaking. Kempner Institute Fellows will join a dynamic community to learn, collaborate, and discover. They will seek to fundamentally and radically advance our understanding of Natural and Artificial Intelligence. The Fellowship is intended for early stage scientists and will provide them with opportunities for intellectual growth in a highly interdisciplinary and collaborative environment. The fellows will independently set their research agenda but are strongly encouraged to work between fields and collaborate with preeminent experts at the Kempner Institute and at Harvard, more generally. For more information and to apply, visit the
Kempner Institute Fellow position description
.