For Alumni & Friends of the Department of Philosophy
Greetings again! I am happy to be writing to you again from the beautiful office in Helen C. White, overlooking a lovely Lake Mendota. We all offer a 'thank you' full of sincere gratitude and admiration for the work Mike Titelbaum did as chair, seeing us through the challenges of covid-19, as well as all the other work that heaped itself upon his plate over the past three years.
One exciting aspect of this past year has been two job searches, which have yielded a myriad of new hires for us. Through a long and extensive process, involving the whole department over several months, we have four new faculty members: Jimmy Goodrich (ethics and political philosophy, including data ethics), Annette Zimmermann (ethics, especially data ethics); Alex Roberts (metaphysics) and Annina Loets (metaphysics). Professors Roberts and
Loets will be joining us in 2023-24, so they can complete the post-doctoral work they are currently undertaking in Europe. It is very exciting to have these young philosophers in our midst, and we are very lucky to have come out of this process with such philosophical wealth.
Read the full letter from the Philosophy Dept. Chair, Alan Sidelle,
HERE
Message from Dean of Letters and Science
Fall semester is well underway, and there is much to celebrate this year! UW-Madison's freshman class is, once again, the largest in history, and it is also the most diverse. Here in L&S, we have a student body full of talent and we are providing a world-class experience for those students. Engagement at SuccessWorks, our innovative career advising center, is at record levels.
One of my top priorities is to make sure we have a welcoming and inclusive environment in which all of our students can thrive and feel at home. I am thrilled with the work happening in our Center for Academic Excellence. CAE continues to provide a strong community of support, guidance, mentoring and connection for students from underrepresented groups, from the time they set foot on campus until
the day they graduate. Our new leader of CAE, Karen Stroud-Felton, is setting ambitious goals including a digital-first strategy to share students' stories in their own words.
Read the full letter from Dean Wilcots
HERE
Jimmy Goodrich
Interview with New Assistant Professor
by James Messina
Q: Where are you from originally?
A: Houston, Texas, or right outside of it, a little town called Sugarland.
Q: Did that make you like eating sugar growing up or did it have no effect?
A: ….no effect.
Q: When did you figure out that you wanted to do graduate school in philosophy?
A: My father really wanted me to go to law school and I really didn't want to and I so I had to find something that wasn't law school to do. I made a deal with him that if I could get into a top ten PhD program in philosophy then he wouldn't coerce me into going into law school. Shockingly, that worked out.
Q: You did a joint PhD with Rutgers and University of Stockholm. How did that come about?
A: After undergrad I got a research fellowship to go to Sweden to work on population ethics stuff. They basically let me be a visiting graduate student there before I started at Rutgers. They said it would be a shame if they never saw me again. They had the money to enroll me half time so I could come back. It was really nice. I spent a lot of time in Stockholm.
Q: What was something distinctively Swedish that you did?
A: I went to a Swedish Christmas party. There's a lot of strange traditions at parties. There's a crawfish boil where everyone wears hats and you sing songs while drinking schnapps. But I never got myself to eat the fermented herring.
Read the full interview
HERE
Annette Zimmermann
Interview with New Assistant Professor
by Hayley Clatterbuck
Q: Where did you grow up?
A: I grew up in a place called Tubingen which is close to the French and Swiss border in Alsace.
Q: When you were a kid, were there any inklings that you would become a philosopher?
A: I think I always asked myself philosophical questions, and predominantly ethical questions. I think I was always drawn to questions that seem obvious to people. I think it's really important to give serious consideration to issues
that ostensibly seem straightforward. Tons of people will look at morally objectionable phenomena in the world and say obviously that's bad, but it's important to tell a good story about why that's bad.
Q: Did that ever annoy anyone in your life?
A: Yes. I think my parents found it slightly annoying, but they've gotten used to it.
Q: What did you think you were going to be when you grew up?
A: When I was a smaller kid, I was really sure that I was going to be a painter. Then for a bit, because there are a lot of doctors in my family, I toyed with the idea of becoming a doctor. You have to do a 2 week internship. I hated it, I fainted multiple times. Being surrounded by death and sickness was not for me.
Read the full interview
HERE
From the Annals of Philosophy Department History: The Whitehead's God Affair
George C. Sellery
Dean of L&S (1919-1942)
Max Otto
Philosophy Dept Chair (1936-1947)
Nearly three hundred years ago, King Frederick William I banished the philosopher Christian Wolff from Halle (where he held a professorship), on the basis of allegations that Wolff was espousing atheism and fatalism. The king worried that Wolff's doctrines would encourage soldiers to desert their posts. It was just one episode in a long history of authorities attempting to proscribe, censor, and punish philosophers for defending doctrines construed as untoward. Socrates, Bruno, Galileo, Spinoza, Kant: the list goes on. While our philosophy department hasn't (yet) seen anyone executed, excommunicated, imprisoned, or even banished, some eighty years ago some UW-Madison philosophers did find themselves at the center of a tempest involving God and academic freedom. What follows is the story of what has been called "The Whitehead's God Affair," an account of which can be found in Some Ferments at Wisconsin, the memoir of George C. Sellery (of Sellery Hall fame), who was dean of the college of letters and sciences at the time. And what a ferment it was.
Read the full article
HERE
Most people who have studied or taught philosophy find it obvious that philosophy imparts thinking skills that are widely applicable. However, at the same time, many graduate students believe that their PhD will only prepare them for jobs in academic philosophy. Casey Hart found himself in this position after receiving his PhD in 2018. "I was on the philosophy job market, and there were a few postdocs I maybe could have gotten. But I had a 2-year-old daughter and another on the way. So I thought, let me take a job outside of philosophy and see what happens." Since then, Hart has turned his philosophical training into a successful career as an ontological engineer, designing semantic structures for artificial intelligence applications.
Read the full article
HERE
Charlene Sime
The Philosophy Department welcomed Charlene Sime as the Financial Specialist/Building Manager in May. Charlene worked for the State of WI at the DMV and Higher Education Aids Board, and prior to that had a career in the private sector for 28 years. Charlene thought working in an educational environment might be good change of pace for her career. The university has been a great fit for her, and she is excited to learn more about the college. She enjoys working in an environment that supports her professional and personal learning and goals.
As a financial specialist, she works with faculty, students, and guest speakers, assisting with travel to attend various
conferences/workshops and processing the related expense reimbursements. She also assists faculty with purchasing research supplies. She is also the new HC White building manager for floors 4-7. Charlene has significant building care experience, assisting her parents with managing their rental properties for many years. She has managed her own rental properties for 6 years.
When Charlene is not in the office she enjoys camping, kayaking, hiking, and spending time with her 3 grandchildren.
Wendy Crabb
The Philosophy Department welcomed Wendy Crabb as the Department Administrator in June after Christy Horstmeyer retired. Wendy started at UW-Madison in the undergraduate Admissions Office in 2017 and is excited to be in Philosophy to learn more about what happens on campus after students are admitted.
Wendy earned a degree in Chemistry from Carleton College in MN and intended to teach high school chemistry. When she discovered public school teaching was not for her, she moved on to teaching at Wolf Ridge Environmental Learning Center and Woodlake Nature Center, both in MN. She then spent about 23 years in the outdoor industry teaching people how to get outside safely while having fun.
She worked primarily for REI at stores in Minnesota, New Mexico, Boston, California, Washington and Wisconsin, as well as at REI's headquarters in Seattle, picking up an MBA from Babson College along the way. She managed the REI in Madison for 7 years before leaving retail life to spend more time with her family. During the break between REI and UW-Madison, Wendy spent 3 years volunteering as the PTO president for Van Hise Elementary School and as the Scoutmaster for her son's Boy Scout Troop. She was recently SCUBA certified and looks forward to adding this to her list of outdoor activities, which include cycling, camping, hiking, downhill and cross-country skiing, snowshoeing, and a variety of watersports.
Working at UW-Madison has been a great opportunity to find work and life balance that did not exist in retail management, and with a life-long desire to keep learning, Wendy enjoys the many options for professional and personal growth available on campus.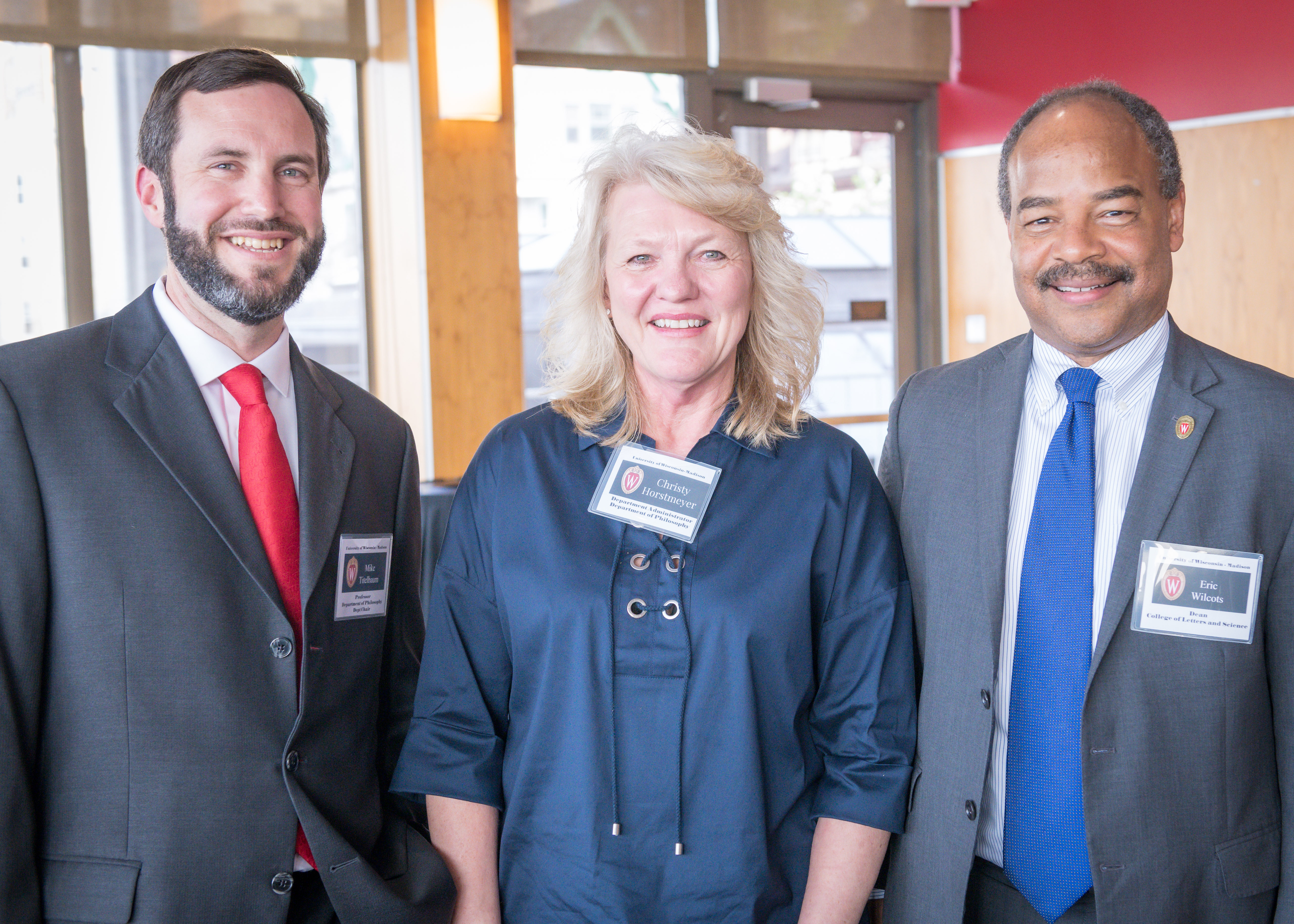 Christy Horstmeyer celebrating over 40 years of UW service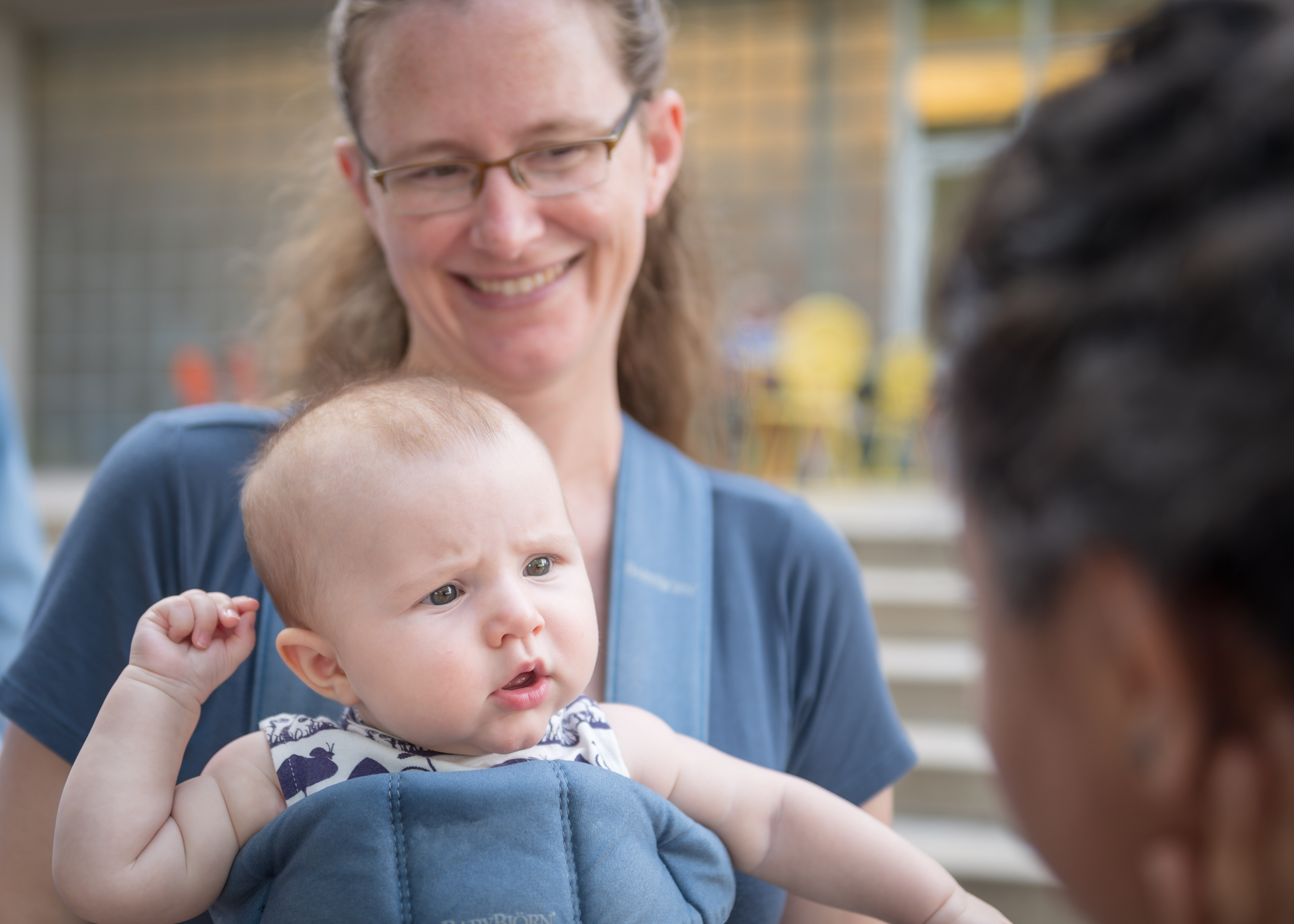 Prof. Emily Fletcher and a very young philosopher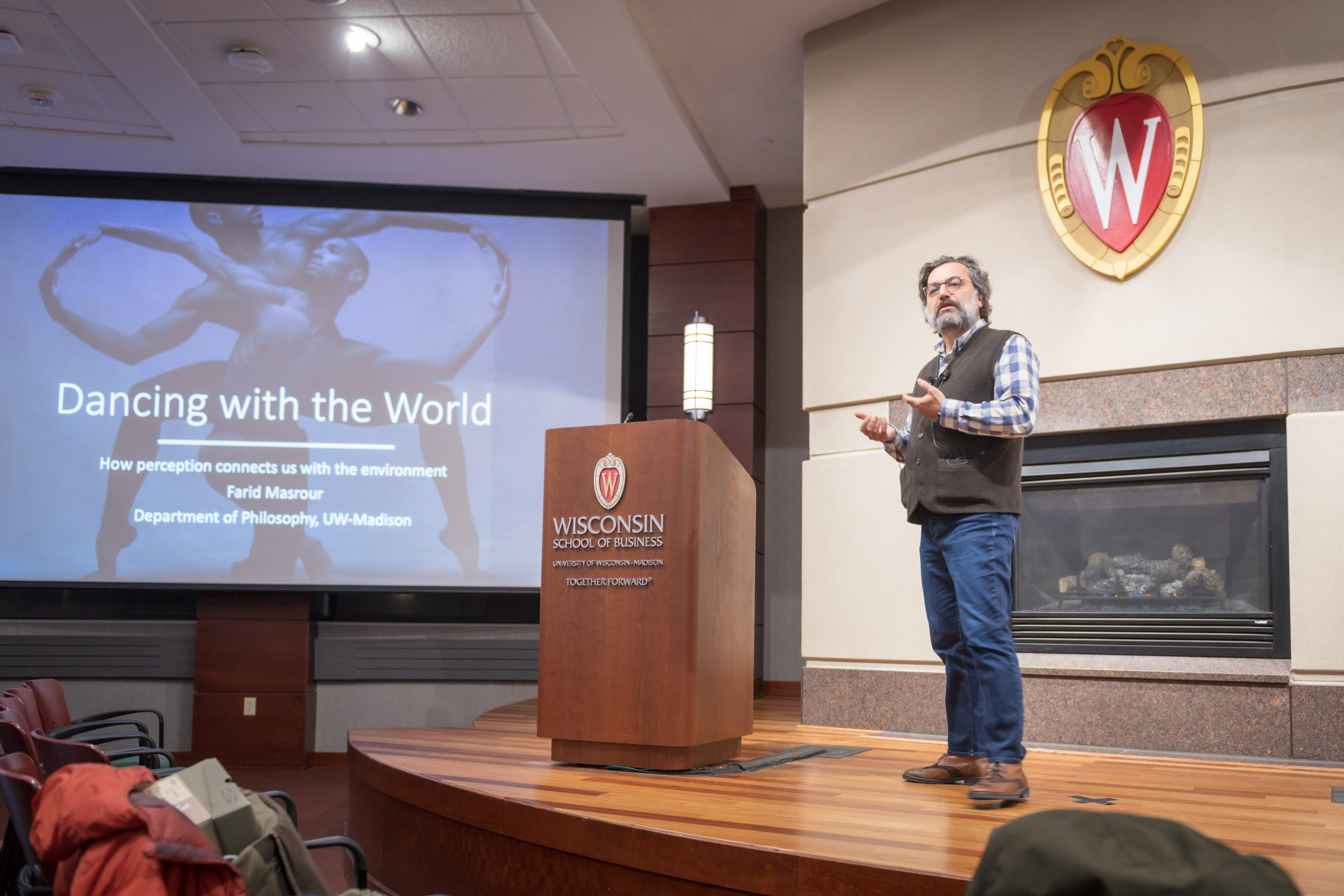 Prof. Farid Masrour dances with the world in his Philosophers at Work public lecture on Nov 17, 2022
2022 meet and greet on the terrace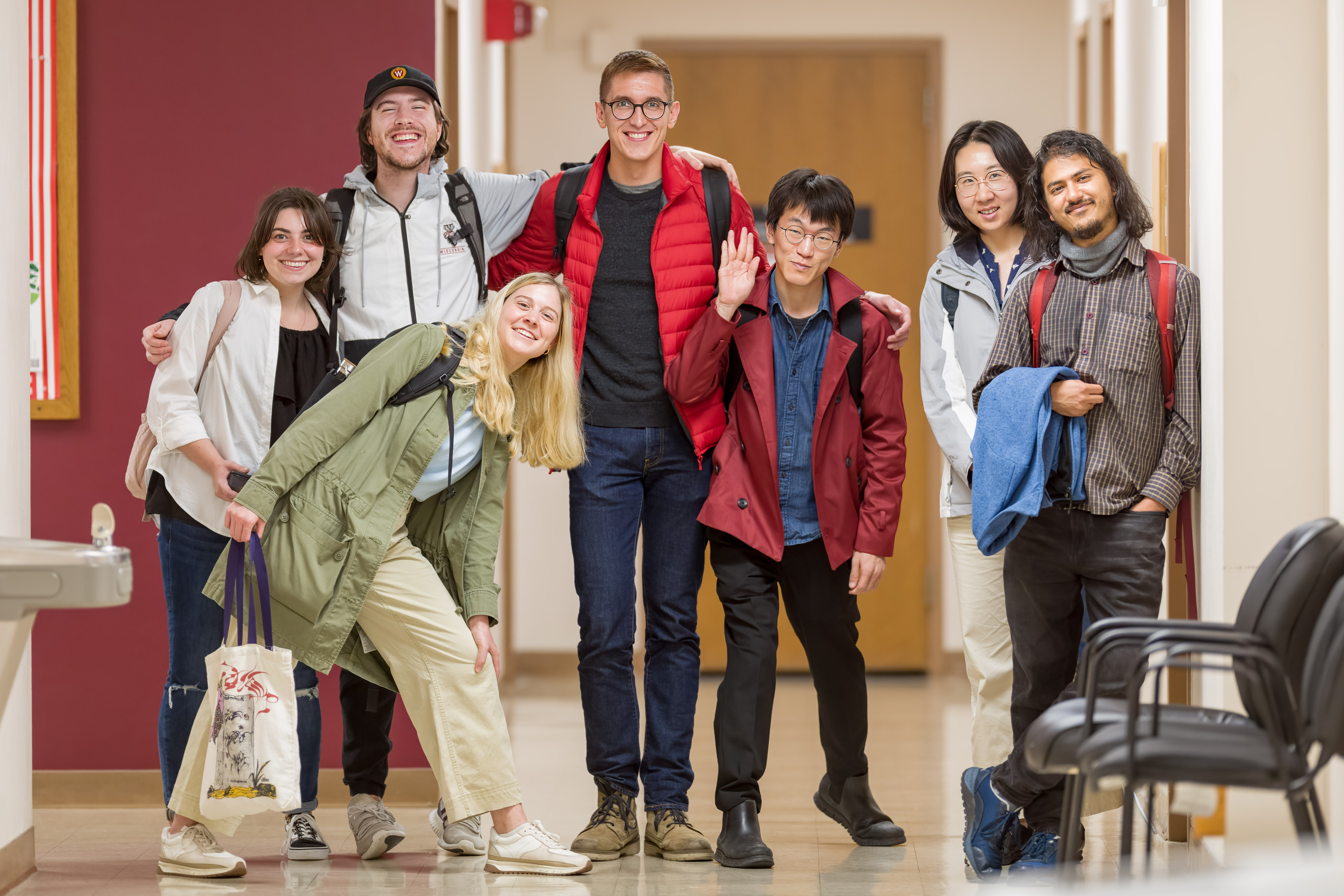 Laura, Liam, Emmaline, Michael, Donghoon, Shiying and Abiral stalk the halls of HC White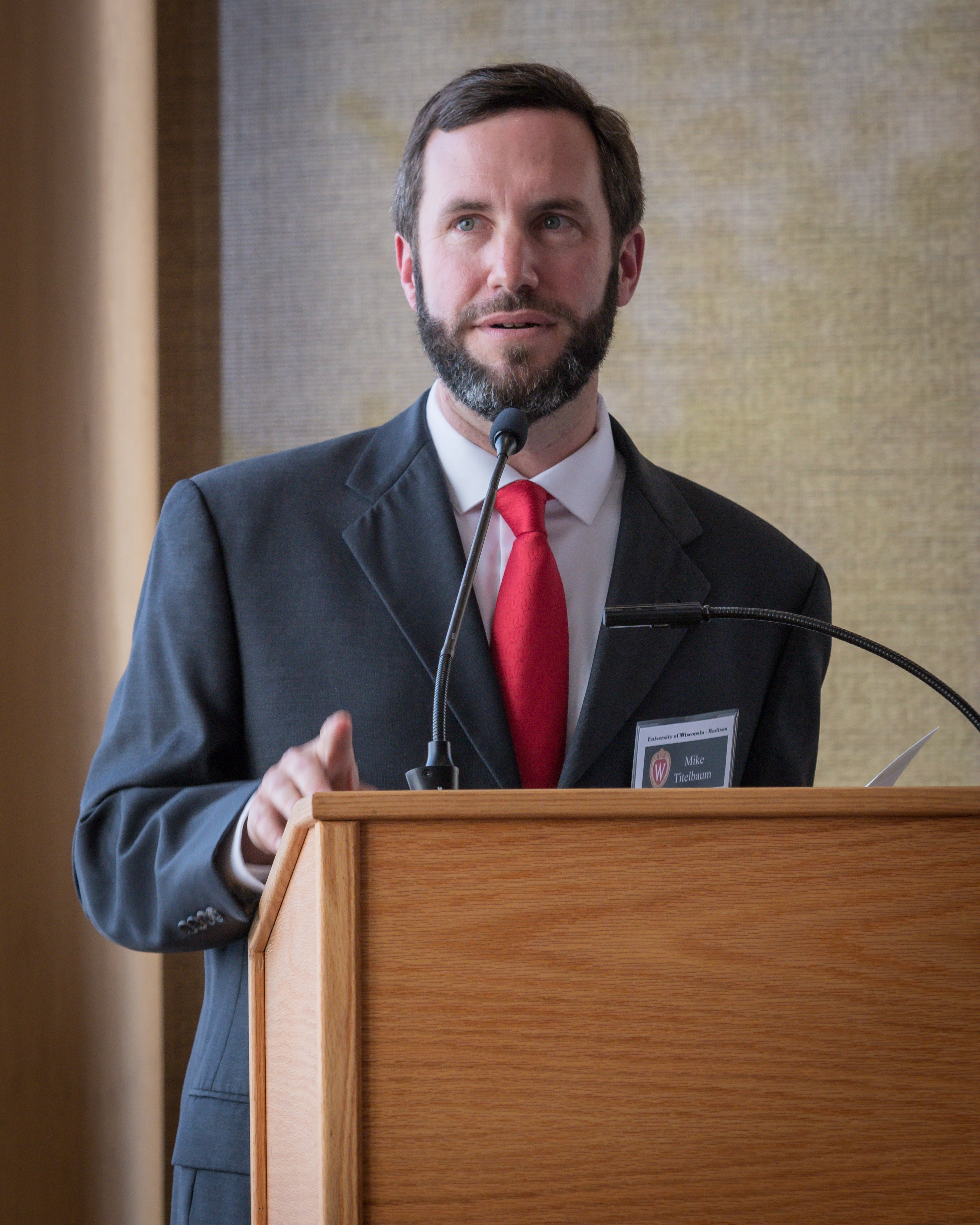 Chair Mike Titelbaum MC's at the May 2022 celebration of graduates and award winners
Above photos by Rob Streiffer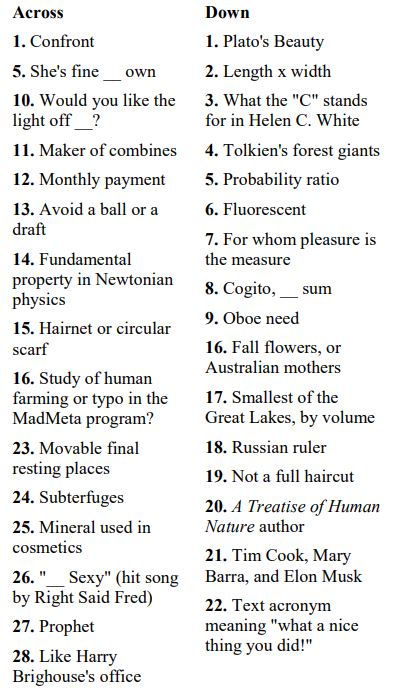 Crossword Puzzle Answers HERE