Food Cooperators Gather Virtually to Share Lessons and Inspiration
This year's theme, Reckoning and Renewal, acknowledges that the COVID-19 pandemic revealed long existing flaws in our society and challenged cooperators to examine this crisis as an opportunity to reinvent, innovate, and adapt. The conference program focused on how food cooperatives are recalibrating and developing innovative solutions that will ultimately strengthen our cooperatives and communities.
CCMA 2021 featured three engaging plenaries: the state of retail food cooperatives; diversity, equity, and inclusion through the lens of the cooperative principles and values; and a case study on Twin Cities Co-op Partner's investment in developing cooperative culture. Throughout the week, cooperative peers presented in six breakout sessions on topics such as food access, responding to communities in crisis, the gender pay gap, and engaging the board in expansion discussions.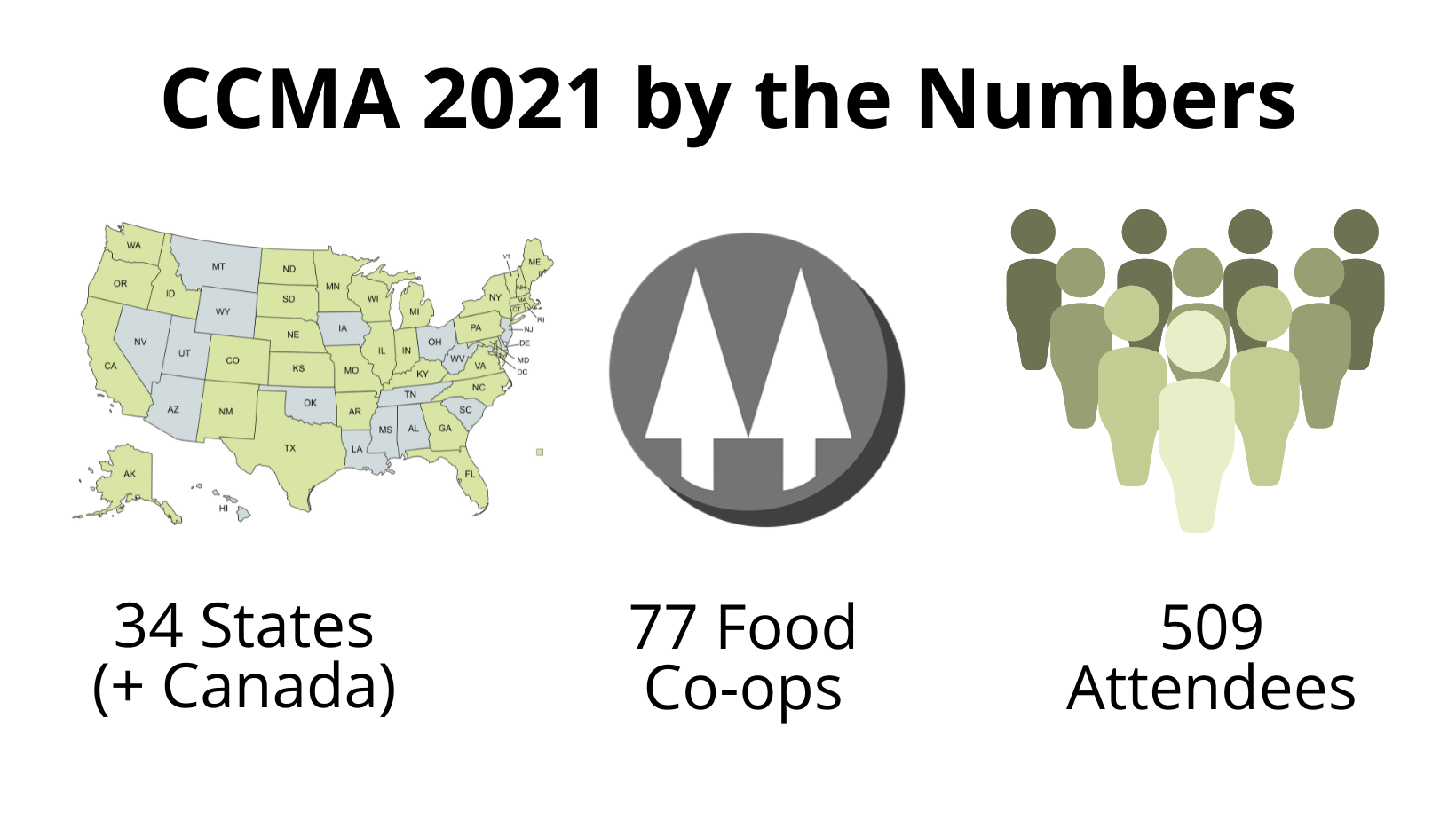 The highlight of the conference was participant networking and engagement. In addition to facilitated breakout discussion groups after every webinar, participants were able to self-organize around topics of interest such as e-commerce, relocation and expansion, or by affinity group or role such as BIPOC, LGBTQ+ cooperators, food access coordinators, or those focused on member and community engagement. The CCMA community's thirst for knowledge and information exchange doubled the conference platform's average number of messages, and quadrupled the average number of meet ups and community board posts.
The late Bill Gessner's presence was felt and legacy honored through two awards. First, David Fowle of National Co+op Grocers presented the Bill Gessner Coaching Award to Shanon Davis, the General Manager of Main Market Cooperative in Spokane, Washington. JQ Hannah of Food Co-op Initiative presented the Bill Gessner Startup Food Co-op Award to Prairie Food Co-op in Lombard, Illinois. .
Thanks to the support of the Cooperative Development Foundation, 47 cooperators were able to attend CCMA 2021 on scholarship. The UWCC team is thankful to its incredible
planning committee
,
sponsors
,
speakers
, and participants for making CCMA a special experience every year.
We look forward to bringing food cooperators together in person, June 9-11, 2022, in Sioux Falls, South Dakota!
Join us for Jeopardy!: Governance Edition
How much do you know about cooperative governance? Do you fancy yourself a governance nerd? Someone who truly appreciates Robert's Rules of Order? Join UW Center for Cooperatives to test your knowledge!
Jeopardy!: Governance Edition will be held online July 14, 2021, 3-4 p.m. CT.
Follow along as three teams compete to see who knows the most about cooperative governance. Contestants will select questions from the following categories: Robert's rule(s)?, Let's create a committee!, There's a co-op for that, Survey says..., and Flaming foods (why not?!?!)!
Teams will be selected from the pool of registrants and will compete to win bragging rights and a cool prize (we promise it isn't a copy of the
Carver Policy Governance Guide
)! Not only will the game be fun, but it also celebrates UW Center for Cooperatives' launch of the
National Cooperative Governance Survey
, which will collect data on governance practices across cooperative sectors in the United States. Hear about how you can benefit from the survey. You won't want to miss this fun and informative event!
Regional Rendezvous Connects Worker Cooperators Virtually
Worker cooperators gathered virtually in May for the second annual Regional Rendezvous. Co-hosted by
Madison Worker Cooperatives
(MadWorC) and
Grassroots Economic Organizing
(GEO), the event brought together 80 cooperators to share knowledge and solutions for their cooperatives and communities. Both MadWorC and GEO have strong histories of worker-owner-directed community-building and realized the value in bringing their communities together through this event.
While typically an in-person event held in the Midwest, pandemic precautions allowed worker-owners from around the United States and even the United Kingdom to participate, though with a concentration of participants from regional cooperatives organizations.
The event's theme, "The Role of Worker Owners in Cooperative Development," was reflected in the many participatory sessions around critical worker-owner topics. These included several peer-to-peer network-building sessions, hearing from fellow cooperatives such as Community Kitchen, crowdfunding ideas, and mutual aid sessions. It concluded with remarks by Dr. Jessica Gordon Nembhard, author of
Collective Courage,
that highlighted the importance of moving forward with lessons learned from the event. Participants formed working groups to continue organizing after the event on various initiatives such as building worker-owner to worker-owner support networks and a worker-owner directed fund.
In Brief: Updates and Resources
New Resource: Co-op Fact Sheets
One of our most circulated and utilized resources,
Cooperatives in Wisconsin
, now has four supplemental resource sheets that take a deeper look at four types and sectors of cooperatives. The new resources cover childcare cooperatives, cooperative conversions, cooperative food enterprises, and housing cooperatives. The target audience includes community and economic developers, and individuals considering starting a cooperative in one of these areas.
Each resource highlights the opportunity in the sector, examples of co-ops in Wisconsin (or elsewhere if we don't have good examples in the state), and organizations that provide relevant technical assistance.
UWCC Interview with Humble Harvest Hands
UWCC partnered with
Midwest Organic & Sustainable Education Service (MOSES)
, to explore innovative agricultural cooperatives for MOSES' Organic Farming Podcast. For this episode, UWCC Cooperative Development Specialist, Kelly Maynard, interviewed Hannah Breckbill of Humble Hands Harvest in Decorah, Iowa.
Humble Hands Harvest
is a worker-owned cooperative farm that grows 2+ acres of organic vegetables, grass-finished sheep, pastured pork, and fruit and nut trees. Kelly and Hannah discussed how and why someone would transition their farm from a sole proprietorship to a worker-owned cooperative, and some of the benefits and challenges of farming cooperatively.
Cooperative Forestry Grants Awarded
Every winter UWCC solicits proposals from cooperatives and non-profit organizations to fund the development of Wisconsin-based cooperatives or cooperative groups focusing on forest management, forest-related products, biomass energy, and forest-owner policy initiatives. This year UWCC received applications totaling $96,000 grant dollars requested. UWCC awarded two grants totaling $37,500 to the Northwest Woods Alliance, Inc. (NWA) and
Partners in Forestry (PIF) Cooperative
, and the Timber Professionals Cooperative (TPC). NWA and PIF Cooperative will expand their Forest Conservation Initiative and their Neighboring Landowner Cooperative Initiative. TPC will pursue opportunities for its membership to acquire mills and advance the multi-stakeholder mill ownership and operation model. As a new co-op, TPC will also continue to grow its membership and establish communications and resource channels through a website and newsletter.
Cooperative Governance Webinar Recordings Available
Recordings are available for the Spring Cooperative Directors Forum Webinars that focused on Cooperative Board Self Evaluation and Decisions-making Tools for the Boardroom. You can view all UWCC governance webinars
here
.
New Book: Strengthening the Cooperative Community
How can we reduce inequality, combat global warming, and become more democratic?
Insights into these questions are addressed by E.G. Nadeau, co-founder of The Cooperative Society Project, in his fourth book, Strengthening the Cooperative Community. Nadeau believes member-owned, democratically controlled co-ops can be part of the solution to creating a better, fairer society. He proposes 16 specific, practical recommendations on how co-ops can become a dynamic force for positive change that benefits people and the environment in the 21st century. Click
here
for more information about the book. Check out E.G.'s
interview
with Everything Co-op about the book.
Webinar: Starting or Joining a Food Business Cooperative
June 28, 2021, 2:00 - 3:30 p.m. CT
By working together, entrepreneurs can create connections to new suppliers or buyers, reduce costs through bulk purchasing, reduce operating costs, share insight, support each other, better leverage technology, etc. Learn from UW Center for Cooperatives, SLO Farmer Co-op (and others) for insight about cooperatives to benefit your business and your community. Hosted by UW Extension Food Entrepreneurship Ecosystem Development (FEED) program. There is no cost to attend this event.
Jeopardy!: Governance Edition and Launch of National
July 14, 2021, 3:00 - 4:00 p.m. CT
How much do you know about cooperative governance? Do you fancy yourself a governance nerd? Someone who truly appreciates Robert's Rules of Order? Join us for Jeopardy!: Governance Edition to test your knowledge of cooperative governance! Have fun and help us celebrate the launch of the National Cooperative Governance Survey, which will collect data on governance practices across cooperative sectors in the United States.
There is no cost to attend this event.