Food Co-ops to Gather in South Dakota
After two years of virtual conferences,
the UW Center for Cooperatives and host co-op, Sioux Falls Food Co+op, will host the first ever in-person CCMA in South Dakota from June 9-11, 2022.
CCMA 2022
will be delivered in an exciting and innovative hybrid event format, combining the in-person conference experience with a virtual component
.
This year's conference theme,
Rooted: Renewing our cooperative identity
, acknowledges the social, political, and ecological crises that have left many feeling uprooted. It challenges cooperatives to grow a more diverse, connected, and thriving
cooperative community through their deep cooperative roots. The opening keynote panel,
Resilience through Cooperative Strategies and Values: Lessons from Cooperative Ecosystems,
will feature leaders from three distinct cooperative ecosystems sharing how the principles of cooperation, participation, social responsibility, and innovation drive their cooperatives and help them weather uncertain times.
Jamila Medley, Consultant, Columinate and former Executive Director of Philadelphia Area Cooperative Alliance
João Marcos Silva Martins, International Relations, Organização das Cooperativas Brasileiras
Ibon Zugasti, International Project Manager, LKS Cooperative, Mondragon Corporation
Engaging keynote speakers highlighting issues impacting the food cooperative movement.

25 breakout sessions featuring cooperative peers sharing lessons learned and strategies for the future.

Co-op tours highlighting the treasures of Sioux Falls.

Social activities to connect and network with fellow cooperators.

Community boards for groups to gather and connect around topics of interest.

In-app peer to peer networking.

An online hub with all conference activities in one place.
Preliminary Cooperative Governance Survey Results Shared
In October 2021, the UW Center for Cooperatives invited U.S. cooperatives to be a part of the
Cooperative Governance Research Initiative
(CGRI), an ambitious new study of governance practices across sectors and over time. Over 500 cooperatives, credit unions, and insurance mutuals completed the 2021 CGRI survey. The data is robust, with representation from diverse industries, organizational structures, and firm sizes.
In January, 365 people registered for a webinar in which Dr. Laura Hanson Schlachter and Courtney Berner shared
preliminary findings from the 2021 CGRI survey
and some of the practical tools we hope to develop with CGRI data. Webinar attendees were also asked what tools and resources would be most helpful for advancing governance practices in their own cooperatives. Responses ranged from board self-assessment tools, executive session practices, and a board compensation index to onboarding guides, nominating committee practices, and qualitative data on cooperatives that have recently undergone a merger as well as nomination committee practices.
It has been heartening to see so much enthusiasm for the initiative. UWCC staff are currently analyzing the survey data and conducting follow up interviews with a small sample of survey respondents from across the cooperative community. The research is already yielding important insights. We look forward to sharing a report on the first wave of data collection in June 2022.
Graduate Scholarships Awarded for Research, Outreach, and Training on Cooperatives
The UW Center for Cooperatives and the UW School for Human Ecology awarded scholarships to graduate students to pursue research, outreach activities, or further knowledge related to cooperative businesses. The scholarships honor Dr. Ann Hoyt and Barbara and Thomas Lyon. Dr. Hoyt is internationally recognized for her innovative research and contributions to co-op education. Thomas Lyon was an agriculturalist, a cooperator, and a former University of Wisconsin Board of Regents president. Established in 2013, the Barbara and Thomas Lyon Scholarship Fund supports graduate students with an expressed interest in cooperative business. Meet our scholarship awardees:
Becca Dower, PhD Student, Civil Society and Community Research
Dower will develop a food sovereignty toolkit for community organizing around reclaimed food ways. The toolkit will include a module for food cooperatives and their potential impacts at multiple points in an integrated, Indigenized food system.
Addison Nace, PhD Student, Design Studies
Nace will study Mayan weaving cooperatives in Guatemala and their persistence throughout the history of colonization, political turmoil, and globalization. Nace will research tactics cooperatives implement to safeguard their textile traditions, collect oral histories from weaving cooperative members, and complete ethnographic research.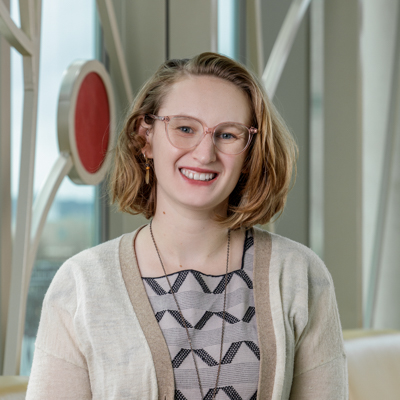 Emma Richmond-Boudewyns, PhD Student, Civil Society and Community Research
Richmond-Boudewyns' research will investigate the ways queer agriculture and cooperative systems have the potential to resist settler colonial notions of gender and family. Richmond-Boudewyns will complete a historical literary review of queer cooperative farming movements in the United States and travel to complete ethnographic observations and interviews at three different queer farming cooperatives in the Northeastern United States.
In Brief: Updates and Resources
Wisconsin Cooperative Feasibility Grant Applications Due
The Wisconsin Economic Development Corporation is offering feasibility grants to co-ops exploring expansion and groups exploring cooperative start up in Wisconsin. Grant applications are due March 24, 2022. The second round of applications will be due in June 2022. The Wisconsin Cooperative Feasibility Grant (WCFG) Program is designed to support the success of current and future cooperatives by allowing them to explore all facets of their business before large investments are made. The most recent Wisconsin state budget included $200,000 annually to help fund cooperative feasibility studies in Wisconsin. Projects will be funded between $2,000 and $50,000.
More information about the WCFG Program.
UWCC and Isthmus Engineering Host Madison Mayor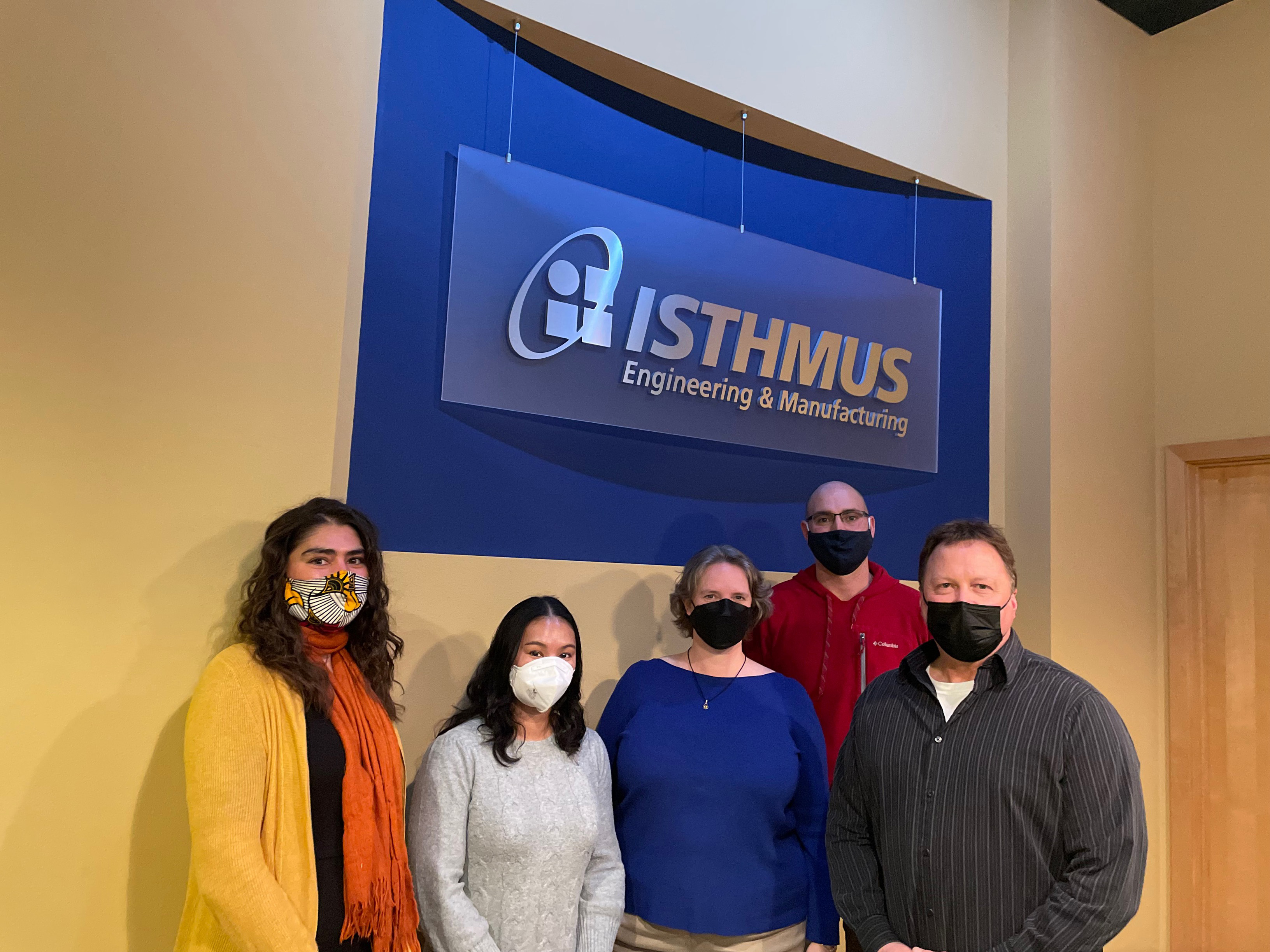 Charity Schmidt from UWCC and MCDC, Saran Ouk from the City's Office of Business Resource, Mayor Satya Rhodes-Conway, Noah Smith, and Ole Olson from Isthmus Engineering and Manufacturing.
UW Center for Cooperatives and Madison Cooperative
Development Coalition staff, Charity Schmidt, was honored to tour local worker co-op, Isthmus Engineering and Manufacturing with Madison's Mayor Satya Rhodes-Conway
Isthmus Engineering and Manufacturing (IEM) is a worker-
owned engineering cooperative that specializes in custom
automated equipment manufacturing. With ~40 worker-
owners and over four decades in business, IEM has also
proved to be a good steward of the cooperative principles -
especially Cooperation among cooperatives and Concern for Community.
Cooperative Forestry Grants Awarded
Every winter, UWCC solicits proposals from cooperatives and non-profit organizations to fund the development of Wisconsin-based cooperatives or cooperative groups focusing on forest management, forest-related products, biomass energy, and forest-owner policy initiatives. This year, UWCC received seven applications totaling $111,280 in grant dollars requested. UWCC awarded two grants totaling $47,500 to the Northwest Woods Alliance, Inc. (NWA) and
Partners in Forestry (PIF) Cooperative
, and the
Timber Professionals Cooperative (TPC)
. NWA and PIF Cooperative will expand their Forest Conservation Initiative, advance the Headwater Cedar Community Forest project, and identify opportunities for cooperative members related to carbon credits. TPC will pursue opportunities for its membership to acquire mills and advance the multi-stakeholder mill ownership and operation model. As an emerging co-op, TPC will also continue to grow its membership and its communications and resource channels through its website and newsletter.
Where are New Co-ops Emerging? The Changing Map of Co-op Development
New Resource: 501(c)(3) Status for Housing Cooperatives
We are excited to share a new resource!
501(c)(3) Status for Housing Cooperatives
helps housing cooperatives decide whether 501(c)(3) status is appropriate for them and navigate the 501(c)(3) application process. This resource was developed by West Foster and David Rosebud Sparer. West is a UW-Madison law student and the 2021 recipient of UWCC's Barbara and Tom Lyon Scholarship. Rosebud is a long-time attorney and champion for cooperatives. We are grateful for their work!
UWCC Annual Report Available
UWCC's
2021 Annual Report
features the work that the Center has done to contribute to the development of cooperatives in Wisconsin and beyond. Some highlights from our 2021 programming include:
We launched the

Cooperative Governance Research Initiative

, the first national study on the governance practices of U.S. cooperatives across sectors and over time.

We helped incorporate 11 new cooperatives that provide rural and urban populations with solar installation, custom wood and paper product manufacturing, meal kit production, meat processing, yoga, and more!

We conducted exciting research on

Diversity, Equity, & Inclusion (DEI) Trends in the Cooperative Community

and

Factors that Promote New Rural Co-op Development

.

We delivered cooperative education on a wide range of topics including governance, management, finance, and development best practices, as well as sector specific content to nearly 800 cooperators.
2022 Regional Rendezvous
The
3rd Annual Regional Rendezvous'
theme is Sowing the Seeds of Cooperation Through Education. The online gathering will take place in April bringing together worker cooperators from across the upper Midwest and country. This year's event builds on the success of the 2021 event which hosted over 100 people and led to the creation of a Worker Co-op Solidarity Fund working group.
Employee Ownership: A Business Succession and Retention Strategy
May 12, 2022, 11 a.m. - 12 p.m.
The need to identify strategies for retaining businesses as baby boomers retire is more urgent than ever. Conversion to employee ownership is gaining traction as an effective method for retaining businesses, jobs, and wealth in local communities. Join us for a webinar featuring representatives from employee-owned businesses who will share their personal experiences with the business conversion process and the benefits and challenges of employee ownership.
Up and Coming Food Co-op Conference
Hosted by the Indiana Cooperative Development Center and Food Co-op Initiative, the Up and Coming Food Co-op Conference will bring together start-up cooperatives from across the country.
CCMA 2022
Sioux Falls, South Dakota and Online
The Consumer Cooperative Management Association (CCMA) conference is the annual national gathering of food cooperative leaders that features 25 educational sessions from co-op peers, inspiring keynotes, tours, and networking. After two years hosting virtually, we are thrilled to bring cooperators back together in person! We are pleased to offer virtual options to participate as well.