Cooperative Vitality: Food Cooperators Gather in Sacramento
Earlier this month, grocery cooperative leaders from across the United States and Canada gathered in person in Sacramento and online for the
Consumer Cooperative Management Association's (CCMA) 2023 conference
. This year's theme, Cooperative Vitality: Reconnection and Resilience, honored Sacramento's nickname, "City of Trees." Sacramento's tree canopy is thick with elms, oaks, sycamores, and hundreds more species that together cover nearly a quarter of the urban landscape.
Deeply rooted local institutions, such as our cooperatives, are an essential element of thriving, diverse communities. CCMA 2023 was an opportunity to shed light on the many ways cooperatives—like forests—foster connection, regeneration, and community vitality. The annual national conference for grocery cooperatives was hosted by UWCC along with local co-ops Sacramento Natural Foods Co-op, Davis Food Co-op, BriarPatch Food Co-op, and Pachamama Coffee Cooperative. CCMA 2023 brought together nearly 450 food co-op leaders from 80 cooperatives to discuss pressing issues and innovations.
CCMA kicked off with an energetic keynote from Errol Schwiezer, host of
The Checkout Podcast,
on the current state of grocery, highlighting industry disruptions that have occurred over the past several years. Schweizer, a 25-year veteran of the food system, shared his perspective on how food co-ops are well positioned to compete in this volatile market. Saturday's plenary session, Restorative Revolution: Transforming the Food System in California, featured a panel of local food system visionaries. Chanowk Yisrael of Yisrael Farms shared how he and his wife started a small urban farm in the heart of Sacramento that has now grown to multiple locations. Yisrael Farms is anchored in community teaching and use agriculture to engage, employ, and empower their community. Adrionna Fike, a former member-owner of Mandela Grocery Cooperative, a worker-owned food cooperative in West Oakland, shared how Mandela critically examines its structures and practices to address equity and empowerment for everyone. Adrionna challenged attendees to answer the question, "How can we best orient ourselves to use cooperation as a channel for liberation?" Lastly, David Benson, Produce Manager for BriarPatch Food Co-op, and Javier Zamora, Owner of JSM Organics, presented about the organizations' partnership for an equitable food system including how to better support farmers.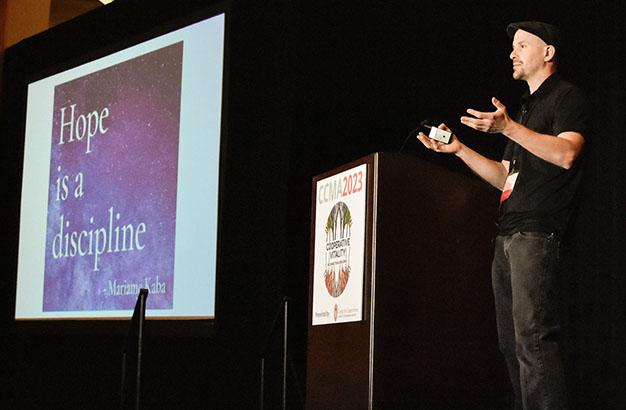 Errol Schweizer, host of the Checkout Podcast presents on industry trends how food cooperatives are positioned to compete is this volatile market.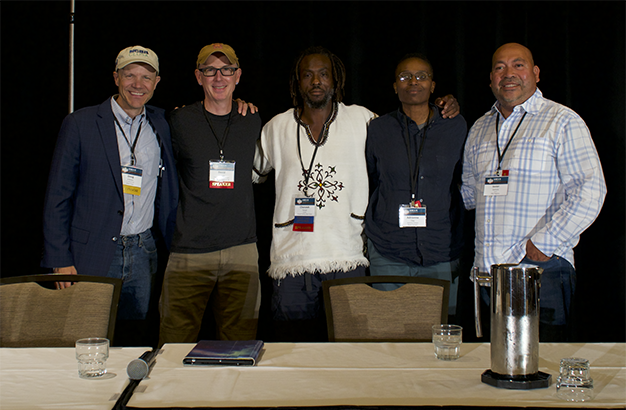 Doug O'Brien, David Benson, Chanowk Yisrael, Adrionna Fike, and Javier Zamora shared their respective work to build a more equitable, just, and sustainable food and agriculture system in California.
The 2023 CCMA Cooperative Excellence Awards recognized outstanding leadership and innovation in food cooperatives. The 2023 CCMA Cooperative Excellence Awards were given to the following people and organizations:
Cooperative Excellence Award: Littleton Food Co-op, represented by Ed King

Cooperative Service: Grace Cox, Olympia Food Co-op and Kelly Dean Wiseman, Community Food Co-op (Bozeman)

Cooperative Innovation: Jeanie Wells, Columinate

Cooperative Board Service: Cameron Hildreth, Community Food Co-op (Bozeman)

Bill Gessner GM Coaching Award: Amber Quesenberry, Co-op Market Grocery & Deli

Bill Gessner Startup of the Year Award: Hudson Grocery Cooperative

Food Co-op Startup of the Year: Gem City Market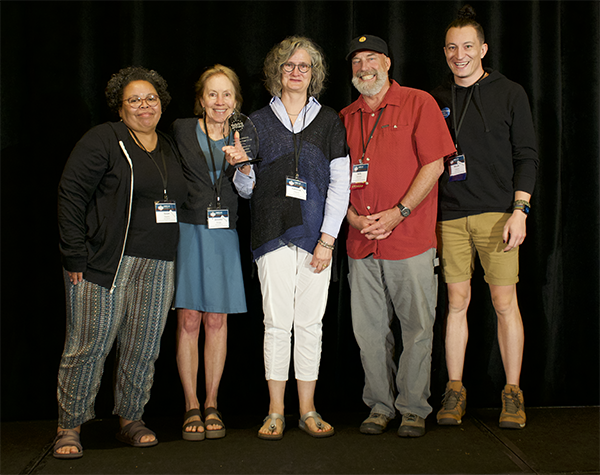 Cameron Hildreth accepts the Cooperative Board Service Award.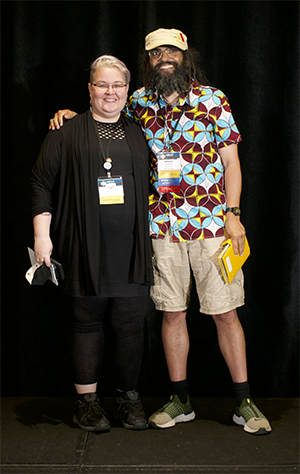 JQ Hannah and amaha sellasie of Gem City Market.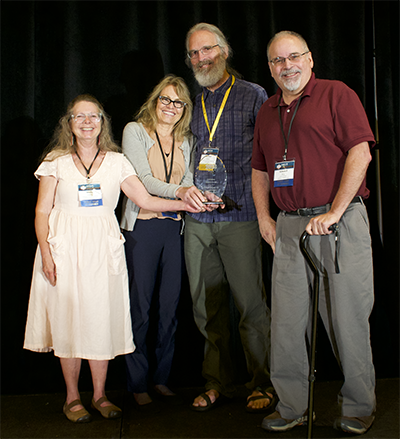 Becky Colpitts, Deb Rosetti Sullivan, Michael Healy, and Ed King with the Cooperative Excellence Award.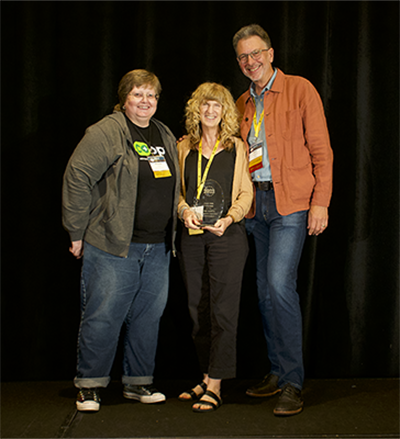 Michelle Schry, Jeanie Wells, and Mark Goehring after the Cooperative Innovation Award presentation.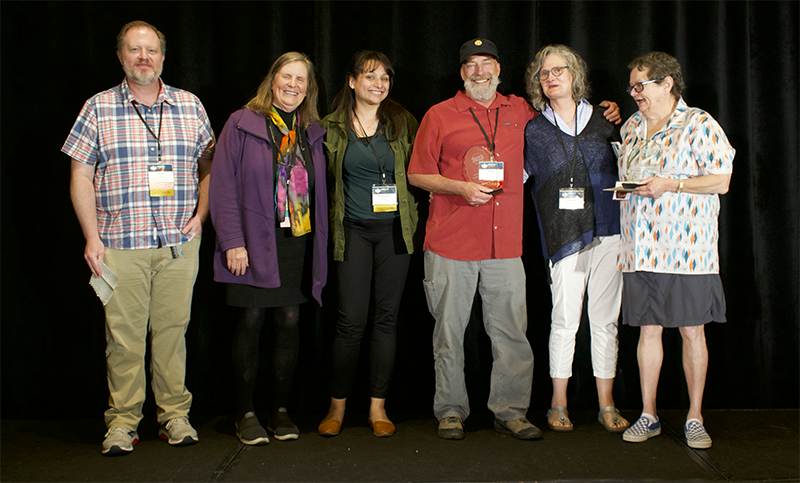 Dave Olson, Karen Zimbelman, Prasanna Regmi, Kelly Dean Wiseman, Cameron Hildreth, and Grace Cox after presentations for the Cooperative Service Awards.
UWCC looks forward to bringing food cooperators together in Portland, Maine, May 30 - June 1, 2024!
New Faces at UWCC
This year, the UW Center for Cooperatives hoped to expand our research efforts and continue to create engaging education events for cooperative leadership by adding to our staff. We are excited to announce two new members to our team,
Yanni Liang
and
Abby Grott
!
Yanni's focus will be on leading the second stage of data collection and analysis related to the
Cooperative Governance Research Initiative
. Abby will be focusing on assisting with the planning and execution of programming for the Center, including the
CCMA Conference
and the
Farmer Cooperatives Conference
. We are happy to have them on board and are excited to see how each of their skills contribute to the mission of the Center for Cooperatives.
Abby Grott
Administrative Specialist
Report on Ag Sector Governance Now Available
Cooperatives within the agriculture sector are diverse—and their governance structures, processes, and cultures reflect this diversity. The report provides information on the practices and culture around governance that agricultural cooperative leaders and practitioners need. It also examines the relationships between governance and performance and begins to unpack the dimensions of governance that may impact long-term cooperative health. This document is not a "how to" manual; rather, it is a window into the broad spectrum of practices agricultural cooperatives are using.
UWCC and GICL will continue our work to translate the CGRI ag sector data into useful resources and dialogue. Later this year, we will release two research briefs on timely topics for ag co-ops; and on July 19, co-authors Courtney Berner and Dr. Keri Jacobs will host a webinar featuring key findings from the report on the governance practices and trends that are shaping agricultural cooperatives.
You can register for the free webinar on July 19, 10:30 – 11:30 a.m. CT
here
.
We hope these cooperative governance resources will serve as a catalyst and a resource for thoughtful conversations between ag co-op directors and managers about how best to lead their cooperatives.
Save the Date: Farmer Cooperatives Conference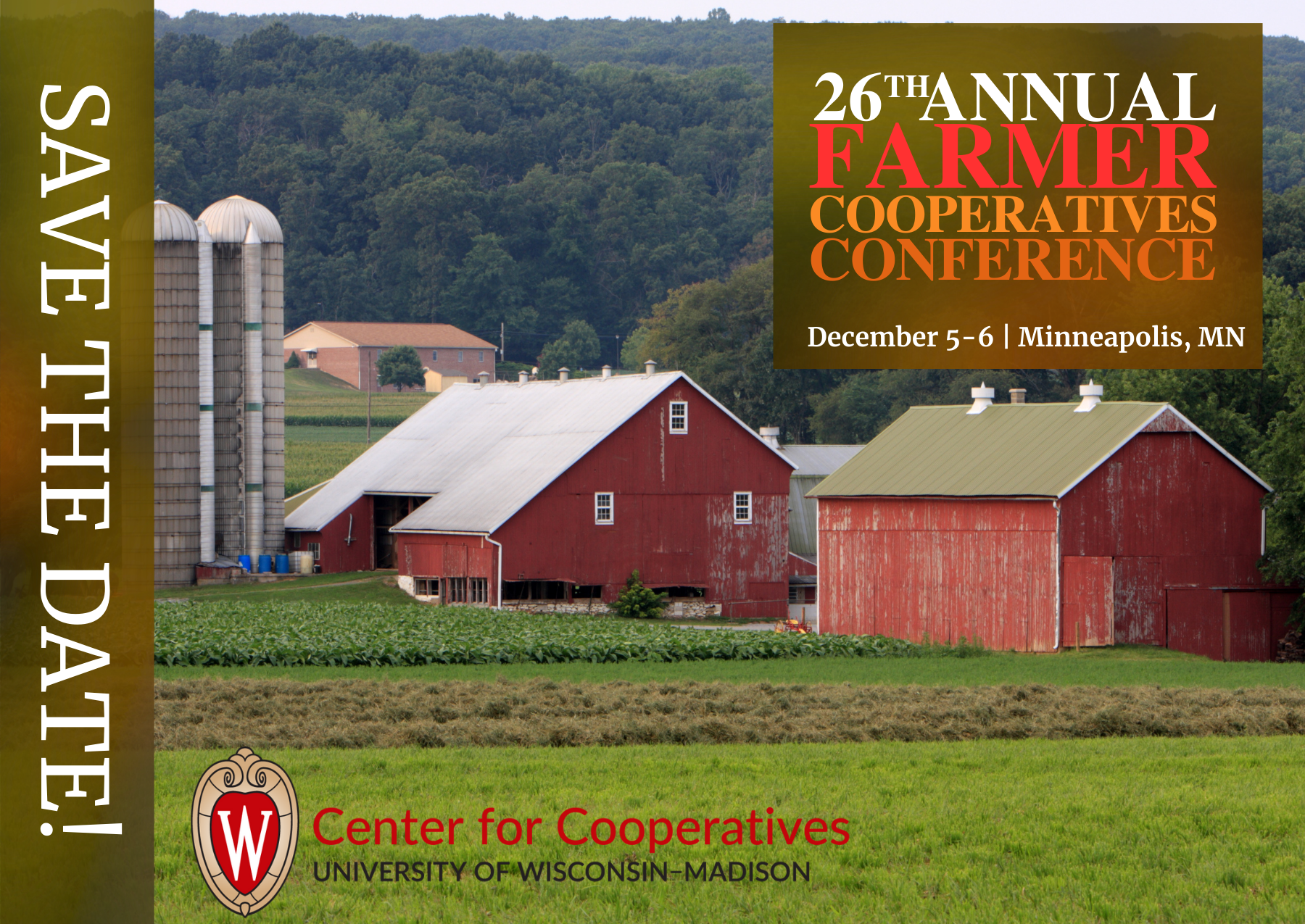 In Brief: Resources and Updates
Cooperative Development Partner Organizations Present at Lenders Conference
UWCC's Kristin Forde presented alongside Emily Stewart of Northcountry Cooperative Foundation and Char Vrieze of Cooperative Development Services at the 33rd Annual Lenders Conference on May 18th, 2023, in Wisconsin Dells. Sponsored by UW-Stevens Point, the conference provided commercial lenders from the region with updates and education on new and ongoing programs. Kristin, Emily, and Char presented on worker cooperative conversions and ways lenders can play a key role.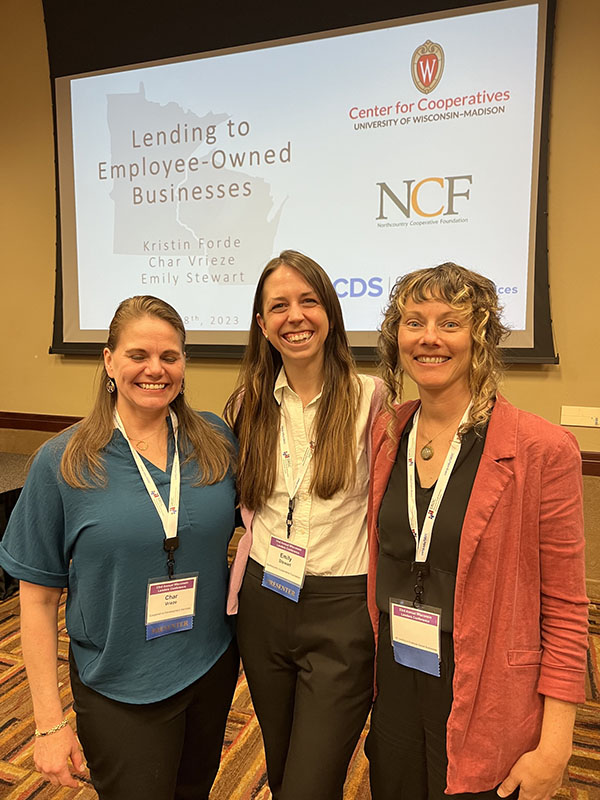 Char Vrieze, Emily Stewart, and Kristin Forde
As business owners consider succession planning, it is important to know that their best option may be to sell to their employees. The presentation included the structure of worker cooperatives, how they are different from employee stock ownership plans (ESOPS), and ways lenders can participate in the financial stack to ensure the transaction is beneficial to employees and selling owners. To learn more about cooperative conversions, please see our
Pathways to Employee Ownership page
.
Wisconsin's Co-op Feasibility Study Grant Program Supports 17 Businesses in 2021-2023
Wisconsin's 2021-2023 biennial state budget included $400,000 over two years to launch a Cooperative Feasibility Study Program, and directed the Wisconsin Economic Development Corporation (WEDC) to manage the program. Over the last two years, the UW Center for Cooperatives has worked closely with
Cooperative Network
and
WEDC's Office of Rural Prosperity
to design, promote, and implement a grant program that would help new cooperatives, established cooperatives exploring expansion, and businesses interested in converting to the cooperative model explore the feasibility of their proposed endeavor. In its first two years, the program successfully disbursed nearly $350,000 in grants to 17 cooperatives from across the state. Grant recipients represented a wide range of industries including agriculture, meat processing, child care, retail grocery, veterinary medicine, and assisted living.
Support for co-ops and programs such as the Feasibility Study Grant Program was made evident in the
Rural Voices for Prosperity Report
, conducted by the Governor's Blue Ribbon Commission on Rural Prosperity. The report recommended that the state "support the development of cooperatives. Explore how other states foster the creation of cooperatives, such as offering grants for cooperative feasibility studies, providing tax benefits to employee-owned businesses, creating a center for employee ownership, or setting state procurement goals to support employee-owned businesses." Additionally, the Governor's 2023 Health Equity Council Report highlighted the benefits of employee ownership and urged the state to "support worker cooperative development programs for people formerly incarcerated, both through technical assistance and funding."
Per the recommendation of WEDC, Governor Evers included $500,000 for cooperative feasibility studies and other technical assistance to cooperatives in his proposed 2023-2025 budget, which is currently under consideration in the state legislature.
Cooperative Forestry Grants Awarded
Every winter, UWCC solicits proposals from cooperatives and non-profit organizations to fund the development of Wisconsin-based cooperatives or cooperative groups focusing on forest management, forest-related products, biomass energy, or forest-owner policy initiatives. This year, UWCC received seven applications totaling $132,591 in grant dollars requested. UWCC awarded two grants totaling $47,500 to the Northwest Woods Alliance, Inc. (NWA) and
Partners in Forestry (PIF) Cooperative
, and the
Timber Professionals Cooperative (TPC)
. NWA and PIF Cooperative will support members pursuing carbon sequestration programs, complete establishment of the Headwater Cedar Community Forest, and support their members in forming local land cooperatives through the Deer Management Assistance Program (DMAP). TPC recently supported the creation of a new cooperative, Timber Professionals Cooperative Enterprises (TPCE), which is in the process of acquiring a chip mill and working to identify other possible acquisitions. TPC will support TPCE in growing its membership, conducting a capital campaign, and successfully transitioning the chip mill to cooperative governance. See UWCC's website to learn more about
Cooperative Forestry Grants
.
Upcoming Events
WEBINAR: Ag Sector Findings from the 2021 Cooperative Governance Research Initiative
July 19, 2023, 10:30 a.m. to 11:30 a.m. CT| Online program
Farmer Cooperatives Conference
December 5-6, 2023 | Minneapolis, Minnesota
Mark your calendars! The
26th Annual Farmer Cooperatives Conference
will be in Minneapolis, MN, December 5-6, 2023. The Farmer Cooperatives Conference will highlight the latest strategic thinking on current cooperative issues and trends. Network and learn from your fellow agricultural cooperative peers. This event features content that applies across the agricultural cooperative community, often featuring cooperative leaders sharing their insights and strategies for success.
Agricultural Cooperative Director Training
January 4-5, 2024 | Mankato, MN
UWCC is partnering with Dr. Michael Boland of the University of Minnesota and Land O'Lakes Member Services to offer an in person training designed for agricultural and farm supply cooperative directors. Session topics will include strategic planning and thinking; effective co-op board advocacy and communication; board assessments; and the changing nature of risk in regards to profitability. This small group training will include a mix of panel discussions and small group activities to maximize engagement.