Honoring Margaret Bau: 25 Years of Co-op Service
This July marked 25 years since Margaret Bau walked through the doors of the
United States Department of Agriculture (USDA)
in Stevens Point, WI, to begin her work as a cooperative development specialist. Since then, she has become a nationally known and recognized cooperative educator, a liaison within the government on cooperative issues, and a passionate and persistent champion for cooperative solutions. By the numbers, Margaret has helped to incorporate over 40 cooperatives in a variety of sectors, including homecare, food hubs, solar, timber and wood product manufacturing, grocery, and agricultural processes with various membership structures. As a trainer and educator, she has prepared over 500 professionals for the cooperative development field since 2004 in collaboration with
Cooperation Works!
She has also presented on cooperative topics to over 9,000 meeting or conference attendees across the United States and Canada.
If you are a cooperative developer in the United States today, it is unlikely that you have not interacted with or been impacted by Margaret in some way. At the
UW Center for Cooperatives
, we often say how lucky we are to have Margaret in Wisconsin. Members of our team have had the honor of working with Margaret on a range of projects, as well as receiving guidance and expertise from her in her on our advisory committee. Our former director, Anne Reynolds, remembers that when Margaret began her work at USDA, it quickly became clear that she understood how to organize and support nascent cooperative organizations. Margaret is well known around the country for her expertise in worker-owned homecare cooperatives, and Anne had the opportunity to work with her for many years on this important effort. She was instrumental in the formation of
Cooperative Care
in Wautoma, WI, the country's first rural worker cooperative in the homecare industry. She maintained connections and relationships with co-op leadership, and used her gift for developing trusting relationships to help the cooperative through challenging times. She also built on this work to support the
Cooperative Development Foundation
in creating their flagship program, the
National Home Care Cooperative Initiative
.
Margaret was an early organizer of food hubs, especially multi-stakeholder co-ops to deliver local food to regional institutions (hospitals, nursing homes, and school districts). Margaret developed four multi-stakeholder food hubs in Wisconsin and advised groups in Ohio, Alabama, and California. In addition to supporting direct cooperative creation, Margaret provided frequent feedback to early researchers exploring the food hub trend (which led to the Wallace Foundation becoming the national information clearinghouse) and contributed to the USDA technical report series on food hubs. Founders and board members of the
Fifth Season Cooperative
in Viroqua remarked on what a tremendous resource Margaret was in their beginning and continues to be today. In particular, her advice and help writing the bylaws, policies, and procedures was instrumental in launching the cooperative. Our current director, Courtney Berner, cut her cooperative development teeth with Margaret on the Fifth Season project and remembers how generously Margaret shared her knowledge and connections, serving as one of her most important mentors.
Margaret's unwavering commitment to the cooperative model, coupled with her dependable, warm, and wise demeanor, makes her someone that people turn to again and again for support and inspiration. Almost 20 years ago, she began having conversations with individuals supporting the forestry sector in the Midwest, building genuine relationships, and planting cooperative seeds. So when in 2020 a large, corporately owned pulp and paper mill in Wisconsin Rapids was going to be shuttered, the loggers, logging truckers, and others impacted as part of the
Great Lakes Timber Professionals Association
were ready and eager to work with Margaret on a cooperative solution. UWCC's Kelly Maynard has worked with Margaret since then as she has played a key role in the formation of four different cooperatives that are working to acquire mills and bring them back under more local control. The board president of one of those cooperatives notes, "while Margaret has been an invaluable partner helping our group navigate the cooperative process, I think what I most appreciate is that she has genuinely cared about our group and mission. She is always on the lookout for creative solutions, she goes the extra mile to give encouraging words when things get a bit daunting, and she has kept us on track when we needed the extra nudge. In my opinion, Margaret sets the bar for others in her profession."
We couldn't have said it better ourselves. We hope you will join us in thanking Margaret for her quarter century of contributions to the cooperative community!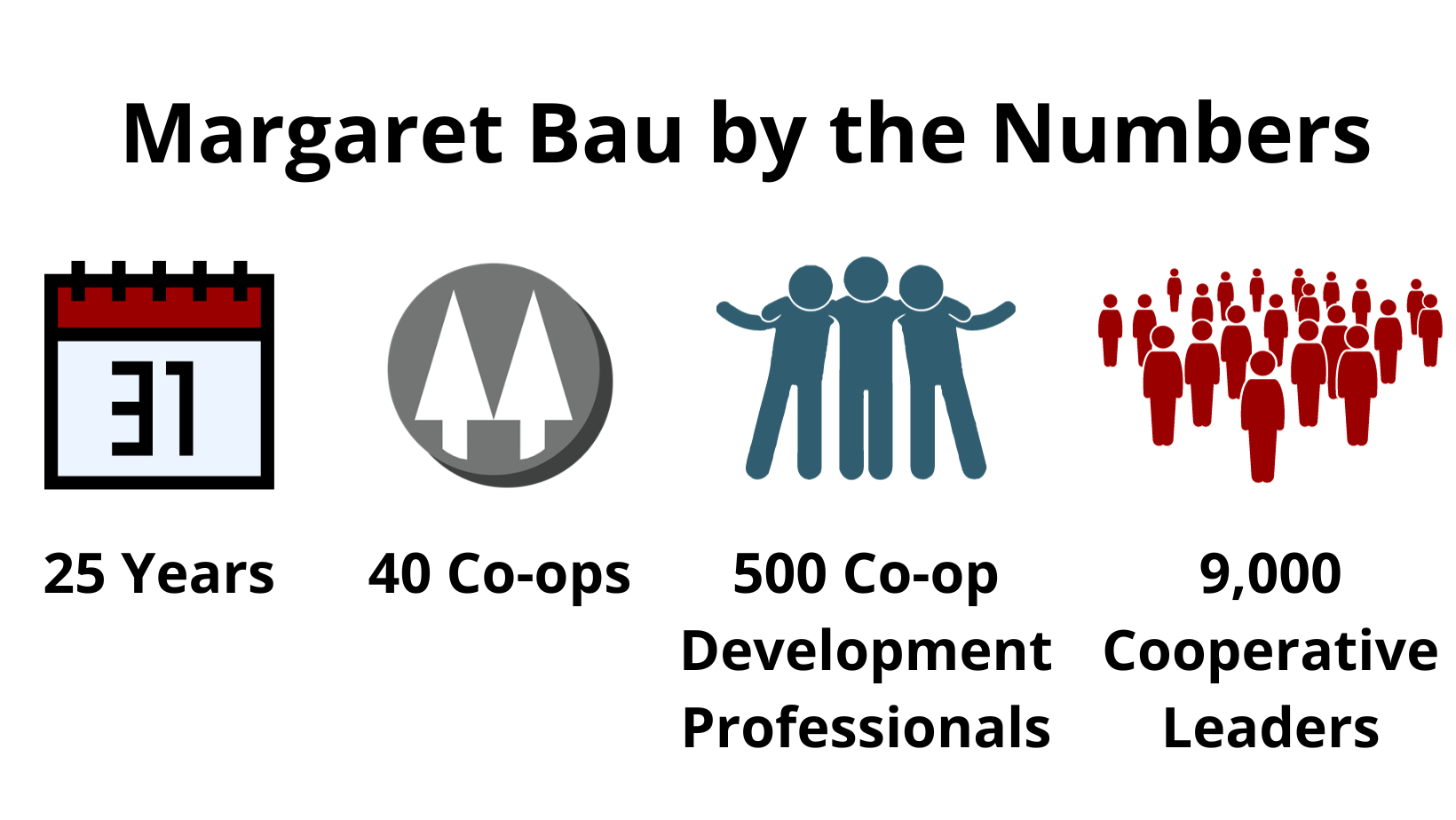 Farmer Cooperatives Conference Program Announced
The
26th Annual Farmer Cooperatives Conference
will take place in Minneapolis, MN, on December 5-6, 2023. Presented by the University of Wisconsin Center for Cooperatives, the Farmer Cooperatives Conference provides a forum for cooperative directors, managers, and those doing business with agriculture cooperatives to explore current issues that will shape the future of farmer-owned cooperatives.
This year's program will include:
Pathways to Addressing Member Equity Challenges

Alternative Approaches to the Labor Shortage

Cooperative Governance in Action

Cooperative Risk Management

Impacts of ChatGPT and AI on the Agriculture Industry

Policy Updates
We are excited to bring agribusiness leaders and directors together once again for a chance to connect and discuss topics that are affecting the ag co-op sector today.
Save the Date: CCMA 2024
We are thrilled to bring CCMA back to the East Coast!
CCMA 2024
will be in Portland, Maine. We are already working hard with our co-op host,
Portland Food Co-op
, to create a program that inspires and gives food co-op leadership the tools they need to serve their co-op and community. We are excited to bring CCMA to Maine for the first time in CCMA's nearly 70-year history. Maine boasts a vibrant and connected co-op ecosystem that is developing a new generation of cooperative enterprises addressing the needs of Mainers. Check back with us periodically for updates on the conference program.

In Brief: Resources and Updates
Ag Sector Webinar Recording
In July, Courtney Berner and Dr. Keri Jacobs shared a deep dive into ag cooperatives and the governance practices and trends that are shaping them. This 60-minute webinar features findings from the 2021 Cooperative Governance Research Initiative: Ag Sector Findings report, a joint project of UWCC and the
Graduate Institute of Cooperative Leadership
at the University of Missouri.
Graduate Student Scholarships for Research, Outreach, and Training on Cooperatives Open Now
The UW Center for Cooperatives, School of Human Ecology, and Department of Agricultural and Applied Economics are offering Graduate Student Scholarships for Research, Outreach, and Training on Cooperatives. Awards are available to support graduate students' pursuit of research, outreach activities, or further knowledge related to cooperative businesses and associations in all sectors, both domestic and international and including credit unions.
Visit our website for more details on the application process and eligibility.
Applications are due December 15, 2023.
Co-op Connection
October 7, 2023, 9:00 a.m.-12:00 p.m. CT
Join
Summit Credit Union
and other local cooperatives for the 12th Co-op Connection celebrating cooperatives and community. Co-op Connection is a celebration of cooperatives and all that we contribute to our communities and the local economy, as well as an opportunity for us to live cooperative principle #6 – cooperation among cooperatives. Free and open to the public! Enjoy family activities, prize drawings and more!
Employee Ownership: Business Succession Strategy
October 11, 2023, 9:00 a.m.-10:30 a.m. CT | Milwaukee, Wisconsin
Join the UW Center for Cooperatives and
Wisconsin Center for Employee Ownership
to learn how employee ownership can be used to retain or enhance businesses in your community. Hear from business developers with experience converting existing businesses to successful employee-owned enterprises. This event is free to attend, but registration is required.
Farmer Cooperatives Conference
December 5-6, 2023 | Minneapolis, MN
The
Farmer Cooperatives Conference
will highlight the latest strategic thinking on current cooperative issues and trends. Network and learn from your fellow agricultural cooperative peers. This event features content that applies across the agricultural cooperative community, often featuring cooperative leaders sharing their insights and strategies for success.
Agricultural Cooperative Director Training
January 4-5, 2024 | Mankato, MN
UWCC is partnering with Dr. Michael Boland of the University of Minnesota and Land O'Lakes to offer an in person training designed for agriculture and farm supply cooperative directors. Session topics will include strategic planning and thinking; effective co-op board advocacy and communication; board assessments, and the changing nature of risk in regards to profitability. These small group trainings will include a mix of panel discussions and small group activities to maximize engagement.
Governance Training Series for New Directors
UWCC is pleased to offer its three-part series for new cooperative directors in early 2024.
Director Training 101: Roles and Responsibilities of Directors
January 23, 2024, 10:00 a.m.-3:30 p.m. | Stevens Point, WI
This session will focus on what cooperative governance is (and isn't) and how as a director you can best fulfill your responsibilities to the cooperative in this role. In addition to the big picture, we will discuss specific tools that can help make directors and the board more effective.
Director Training 102: Finance Basics for Directors - Webinar
Monitoring the financial health of the organization is often the most intimidating responsibility assigned to co-op directors—but it doesn't have to be! This session will provide an overview of cooperative finance, understanding the financial responsibilities of a director, reading financial statements, and questions directors should be asking.
Director Training 103: Tools for Governance Success
February 28, 2024, 10:00 a.m.-3:30 p.m. | Stevens Point, WI
Learn tools for improving the way your board meets its responsibilities to the cooperative and membership. Topics include: developing policy, GM/CEO evaluation, board evaluations, and meeting facilitation.