Season's Greetings from the Public History Project! This month's newsletter includes an introduction to the Project's curatorial assistant, information on our Annual Report, an interesting holiday-themed archival find, links to past events, and more!
The University of Wisconsin-Madison's Public History Project is a multi-year effort to uncover and give voice to those who experienced, challenged, and overcame prejudice on campus. As always, if you have a story to share, an event you think should be researched, or a person you think has been overlooked, please email us at publichistoryproject@wisc.edu.
This month, we released our
Annual Report for 2020-2021
. It details some of the exciting research that is ongoing and gives a snapshot of our work last year. It also gives details on the work ahead and the Project's final outcomes. You can see our Annual Report from last year 2019-2020
here
.
The Project's Blog is one of the best ways to see the research our undergraduate and graduate students are working on to help uncover the histories of exclusion and resistance on campus. We publish new research every 2-3 weeks while school is in session and will highlight newly published blogs in this newsletter. Check out the 15 blog posts we've published since the Project began
here
.
Introducing the Project's Curatorial Assistant - Taylor L. Bailey (she/her), a second-year graduate student in the Afro-American Studies MA and English Literary Studies Ph.D. Bridge Program. She is from Chicago and completed her undergraduate degree in African & African American Studies and English Literature with a concentration in fiction writing at Washington University in St. Louis. Her research interests lie at the intersections of Black feminist thought, Black girlhood studies, and 20th-century literature— more specifically concerning ideas and manifestations of insurgency in Black womanhood and how the radically recentering of self for these socially "insurgent" Black women allows more space for liberation. It also allows Black women and girls to radically negotiate their existence within an anti-Black and misogynistic society. She has enjoyed working with the Public History Project because it allows her to expand her intellectual ideas while also giving her experience with relaying those histories to larger audiences through curatorial processes. Taylor is very is excited to showcase the histories of discrimination and resistance at UW-Madison through the experiences of students of color, and cannot wait until opening night at the Chazen!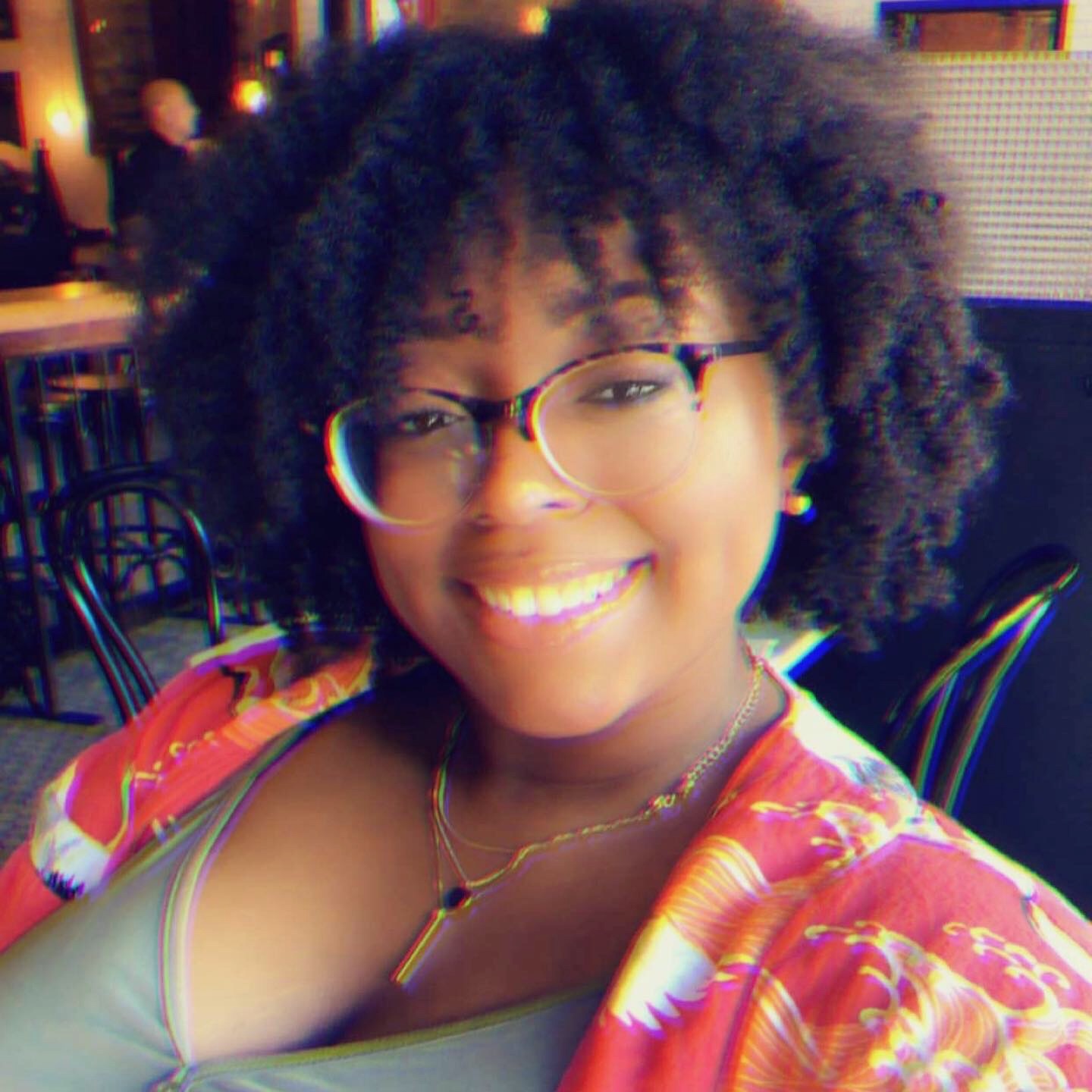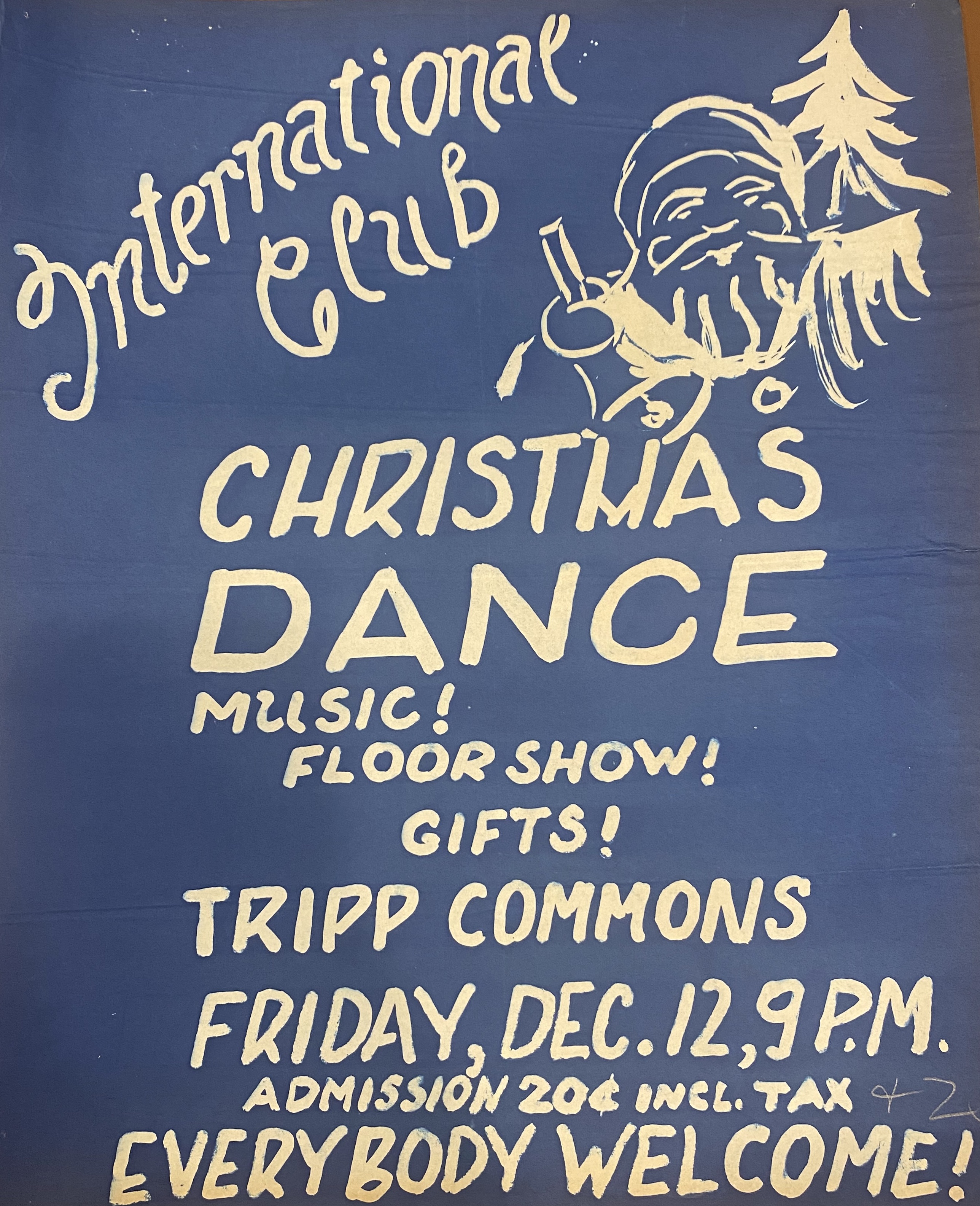 International Club Christmas Dance Poster ca. 1940, Courtesy of the UW Archives.
This month we're highlighting a holiday-themed archival find. Thanks to a recent acquisition at the UW Archives, we have a better understanding of the International Club's activities in the early 1940s. The International Club was formed in 1903 by Karl Kawakami, a Japanese student. The Club was originally established as a space for intellectual discussion but quickly broadened its scope to include more social opportunities. They also became the organization that welcomed all new international students since UW-Madison did not have an office for International Student Services until 1948. Marion Swenson (BA '42) kept a detailed scrapbook with posters, ticket stubs, dance cards, an other ephemera from the Club. This poster advertised the International Club's Christmas Dance at Tripp Commons. At only 20 cents a ticket, we think we would've quite liked to attend!
Thank you to Jerri Garretson for donating her mother's scrapbook and to the UW Archives for preserving and making available this amazing piece of UW history!
We get asked a lot of questions. Each month we'll answer a question in the newsletter. This month, we got asked: Why did students organize sit-ins? What was the first sit-in at UW-Madison?
The answer: It's complicated…
Sit-ins are a form of non-violent, direct action that sees groups physically occupying buildings for a cause. Usually, protestors refuse to move until those in power meet their demands. Sit-ins have long been a protest tactic at UW-Madison. But they became much more common during the Civil Rights Movement. Though it's hard to say which one was the first, one of the earliest sit-ins was
in 1966
. Students for a Democratic Society (SDS) organized a sit-in in the Peterson Building to protest the University's cooperation with administering the draft. Students also organized sit-ins during the Dow Protests in 1967 and to protest homophobia in the ROTC in 1990.
Got a question? Email us uwpublichistoryproject@wisc.edu.
Sit-In at the Peterson Building in 1966, Courtesy of the UW Archives.
Did you catch the Project's Director, Kacie, in conversation with Dr. Eddie Cole? If not, you're in luck! You can watch the chat
here
. They spoke about Dr. Cole's new book which details the history of college presidents and their role in the fight for social justice. Thanks to our partners the Friends of the Libraries for making this possible!
The Public History Project is continually partnering with organizations and departments on campus to ensure that the histories we uncover are made available to our community. For a complete list of past and upcoming events, click
here
!
Each month, we want to share one of the many (many… many… ) books the Project has used for our research. This month, we highlight the work of disability rights activist Alice Wong,
Disability Visibility: First-Person Stories from the Twenty-First Century.
One in five people in the United States has a disability - some visible, others less so. This book highlights the voices of disabled people through essays that highlight the complexity of the disabled experience.
Each month the Project's Director, Kacie Lucchini Butcher will share a book, podcast, movie, quote, or something else she thinks has been adding to the PHP. We're calling it "From The Desk of KLB"
This month From The Desk of KLB - The Netflix show High on the Hog: How African American Cuisine Transformed America. The show explores the origins of African-American food in a series that is informative, emotional, and mouth-watering.
As always, if you have a story to share, an event you think should be researched, or a person you think has been overlooked, please email us at publichistoryproject@wisc.edu.