Hello from the Public History Project and happy Pride Month! June's newsletter celebrates LGBTQ+ history at UW-Madison and includes links to project research, Pride events, some incredibly cool buttons from the archives, new book and movie recommendations, and more!
The University of Wisconsin-Madison's Public History Project is a multi-year effort to uncover and give voice to those who experienced, challenged, and overcame prejudice on campus. As always, if you have a story to share, an event you think should be researched, or a person you think has been overlooked, please email us at publichistoryproject@wisc.edu.
In April 1990, students crowded around UW–Madison Chancellor Donna Shalala's office demanding the expulsion of the Reserve Officer Training Corps (ROTC) from campus, pointing to the U.S. military's discriminatory prohibition against gay and lesbian service members. The protest was the culmination of years of activism on the part of students and faculty, and just one chapter in a long history of LGBTQ+ resistance on campus.
Check out our
recent blog post
from researcher Ezra Gerard detailing the ROTC protests and the fight against military discrimination in the 1980s and '90s.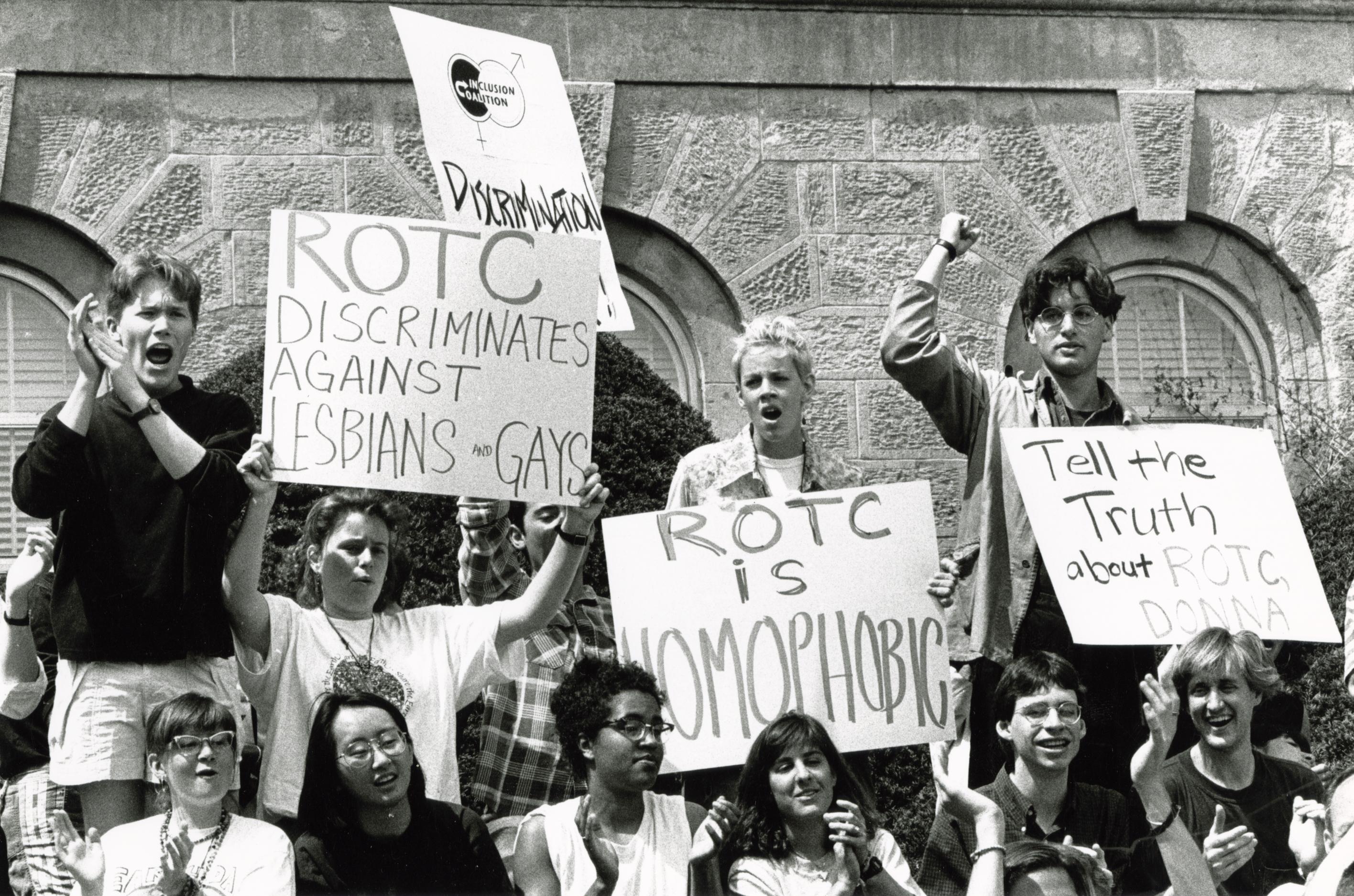 Protestors demonstrate in front of Bascom Hall during the weeks' long protest of the ROTC's anti-gay policy, ca. 1990.
Photo by Michael Mihm, UW–Madison Archives.
We have exciting news! Taylor L. Bailey, the project's longtime curatorial assistant, has joined the PHP team full time as assistant director! Taylor recently completed an Afro-American Studies MA at UW–Madison.
Taylor is from Chicago and completed her undergraduate degree in African & African American Studies and English Literature with a concentration in fiction writing at Washington University in St. Louis. Her research interests lie at the intersections of Black feminist thought, Black girlhood studies, and 20th-century literature.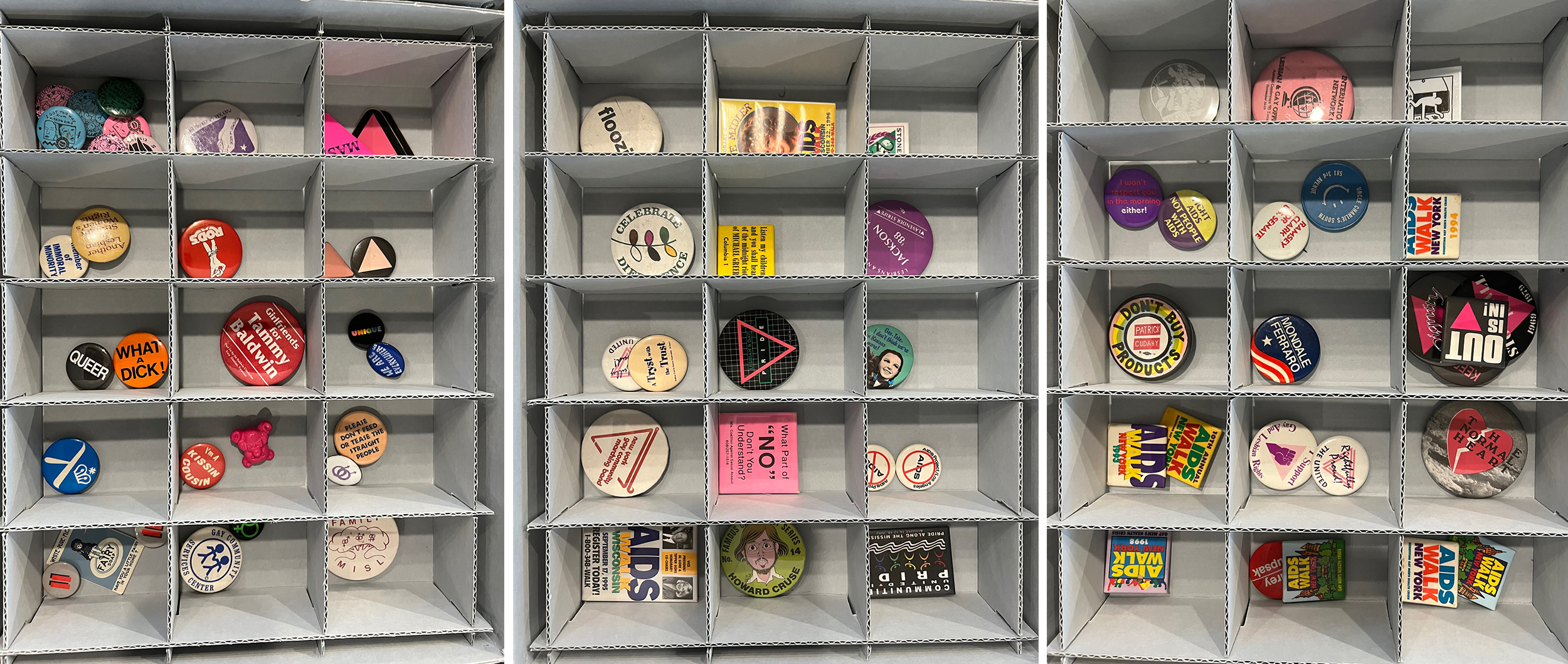 Selections from Richard Wagner's button collection at the UW–Madison Archives.
Really, is there anything cooler than a whole pile of vintage buttons? Yes! — a whole pile of vintage buttons chronicling decades of LGBTQ+ history in Wisconsin!
This month from the archives we're sharing some images of the extensive button collection belonging to
Richard Wagner
, a pioneering Wisconsin gay rights activist, local Madison politics mainstay and LGBTQ+ historian who died in 2021. Accumulated everywhere from early '90s AIDS walks to the iconic local gay bar Rod's, Wagner donated the entire collection to the UW–Madison Archives.
Looking for a chance to celebrate Pride and get outside to enjoy the summer weather? Join the Gender & Sexuality Campus Center for
Pride Picnic on the Hill
, a community gathering on Bascom Hill, the site of the 1990 ROTC protests.
Thursday, June 23 from 12:30 p.m. to 2 p.m. Everyone is welcome! BYOBlanket. RSVP for accommodations and provided lunch by Monday, June 20 at
go.wisc.edu/PridePicnic
.
Drawing on a rich collection of primary sources — including diary entries, love letters, zines, advertisements, oral histories, and more — the book highlights the work of activists and shines a light on powerful and often untold stories from Wisconsin's history.
And for more reading on the history LGBTQ+ people in Wisconsin, past and present,
check out the work
of scholar and activist Richard Wagner.
We get asked a lot of questions about UW history. Each month we'll answer one in the newsletter.
This month: What was the first LGBTQ+ student group on campus?
The answer: While not necessarily inclusive of the wider spectrum of identities in today's LGBTQ+ community, the Madison Alliance for Homosexual Equality (MAHE) became the first gay liberation group in the Wisconsin and on UW-Madison's campus when they held their first meeting in November of 1969. Their initial announcement stated the group was "dedicated to the creation of a society characterized by responsible sexual freedom." It continued, "We do not seek tolerance; we demand human dignity and respect." Today, there are several organizations for LGBTQ+ students on campus.
Got a question? Email us uwpublichistoryproject@wisc.edu.
Each month Project Director Kacie Lucchini Butcher will share a book, podcast, movie, quote, or something else she thinks has been adding to the PHP. We're calling it "From The Desk of KLB"
This month From The Desk of KLB —
Paris is Burning
, the classic 1990 documentary that vibrantly captures New York's drag ballroom subculture of the 1980s. The film by Jennie Livingston follows Black and Latinx gay men, drag queens and transgender women, mixing striking scenes of vogue dance competitions and runway battles with candid interviews.
As always, if you have a story to share, an event you think should be researched, or a person you think has been overlooked, please email us at publichistoryproject@wisc.edu.